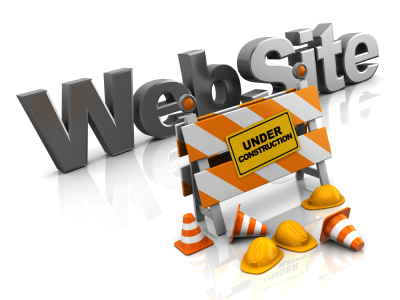 Over the past 20 years, the internet has become the most important stream of information that exists for real estate professionals.
This is where we:
Find our deals
Do our research
Get properties sold
Network with other investors
Find the best service providers
Learn how to improve our businesses
and a lot more…
Considering everything the internet has done for us over the past couple of decades, there is absolutely no reason why a serious real estate professional shouldn't have at least ONE solid website representing their business.
Creating A Website Is Simple!
…but even though it's simple, I wouldn't necessarily say it's naturally intuitive.
What I always needed (and never had) was for someone to provide an idiot-proof, step-by-step guide on how to do it… so that's exactly what I'm going to do for you.
In Step 1, I'm going to show you (in less than 5 minutes), how to create your website with a company called Bluehost. Together, we'll walk through the following steps:
Registering Your Domain
Hosting Setup
Installing WordPress (a website building platform)
If all of this sounds foreign –
don't worry
. Just follow the directions in this video: Head over to BlueHost through this affiliate banner:
A well-built website could easily be the most powerful asset you own. Regardless of what your real estate business does. A website is a tool that can:
Build Your Credibility
Position You As An Expert
Represent Your Company Image
Advertise Your Listings
Advertise Your Services
Generate Leads Around The Clock
Reach A Global Audience
Offer Your Business Info To The Public 24/7
Automate Your Communication
Make You Instantly Accessible To Prospects & Customers (without consuming any of your time)
Any single one of these things can have an enormous impact on your business… and the real kicker is – it's not expensive. You can literally have any of these things TODAY for less than a couple hundred bucks.
Getting Past The Mental Barriers
I understand the hesitancy that many people have about creating a website.
You and I are real estate investors – right? We're good at finding deals, negotiating with people, crunching the numbers and managing relationships. We're NOT a bunch of geeky computer nerds who sit around and write code all day.
When I first got into real estate investing, creating a website was out of the question for me. I didn't know the first thing about how to create/build/edit/design/publish a webpage that would actually be useful… and when you have no idea what you're doing, it's pretty easy to ignore or downplay the importance of a website.
After a solid year of procrastinating, I eventually hired a developer to build my first website. The end product ended up costing me $1,500. It looked good, but it wasn't exactly "functional". It made me look credible (which certainly counts for something), but what I REALLY needed was a website that would give people exactly what they were looking for, as quickly as possible.
If I had known THEN what I'm showing you NOW – I literally could have saved myself thousands (which I desperately needed the sole member of a startup company).
Taking The Next Steps
Step 2 of this process will vary depending on what kind of website you're trying to create. In the coming weeks – I'll be releasing several "Step 2" videos, which will walk you through the process of building the following:
Each of these are designed with a very specific purpose in mind and all of them can be very powerful when done right.
Do You Need A Real Estate Website?
I'll be honest with you… do you absolutely need a website for your real estate business?
No – you don't absolutely need it.
A website won't solve all your problems BUT, if you want to automate your business, build credibility, provide information to your customers around the clock and make more money in the long run, a great real estate website is an awesome way to do it – and I'm not sure why any serious real estate investors wouldn't have a website at work in their business (especially considering how easy and inexpensive they are to set up).
I know of a few investors who have never gone through the motions of creating one – but I do think it has things significantly more difficult than they needed to be. It's really less a question of "Can I live without it?" and more a question of, "What is my business missing out on without it?"
Trust me – a good real estate website is an extremely helpful tool to have at your disposal. That's why I'm promoting these resources here on the blog, because I know how powerful a good online representation can be for your business (all of my websites have been HUGELY helpful for my buying and selling efforts).
BONUS: Seth's Traffic Toolkit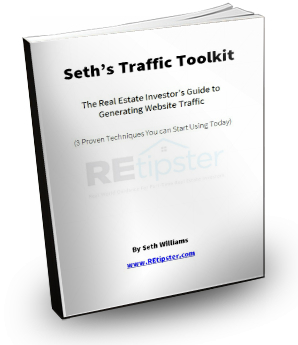 Since I'm a referral partner for Bluehost (i.e. – I make a few bucks if/when you set up your website through them), I wanted to give you a little extra bonus if you decide to use this service.
I spend a solid day writing a detailed report, explaining the basic details on of how I've been able to generate a lot of quality traffic for my various websites (i.e. – several thousand unique visits per month) and I'd like to show you exactly how to generate this same kind of traffic for your real estate website as well…
If you make a purchase through the affiliate link above, simply forward your receipt to me at REtipsterBonus@gmail.com and within 24 hours, I'll send you an email that you can use to download a copy of this guide.
There is no extra charge for this report – I just wanted to make it available as my special "THANK YOU" to those of you who are helping me keep the REtipster Blog afloat.