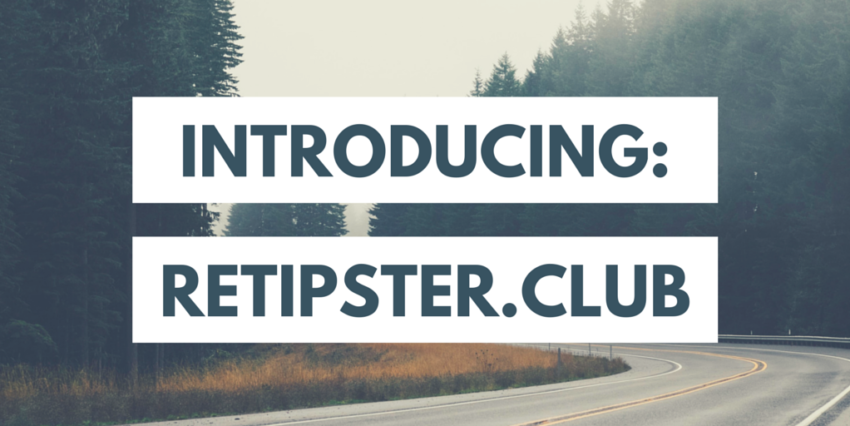 After months of toiling behind the scenes to put together the best possible product we could possibly manage, today marks the arrival of the biggest development we've ever seen for REtipster.com.
People have been asking me for years to put together some kind of step-by-step guide that will walk them through the entire process of buying and selling land. I've spent the past few years publishing this information for free, right here on the blog – but admittedly, I didn't always do the best job of keeping it organized.
The truth is – there is a lot of stuff that lives inside the topic of land investing. This is a BIG story to tell. It's not something you can sum up in one blog post (believe me, I've tried). In order to give this investing technique a fair shot, it takes a deep dive into every aspect of the process… something I've never quite been able to do adequately on the REtipster Blog.
Earlier this year, a few "raving fans" convinced me it was time to take this blogging endeavor to the next level by offering a more all-inclusive solution for those who wanted more help.
If I was going to offer a fresh take on the land investing process, I wanted to do it right… and I didn't want to price it out of everyone's reach, so I set out to create a dedicated membership website that would contain all the vital components of a detailed course and a supportive community.
As I write this, the site is still a work in progress – but as you'll see in the video below, it's shaping up to be a pretty nice platform:
As of today, August 3, 2015 – this site is now live and ready for action.
Many people will probably be most interested in the detailed land investing course, but if you ask me, I think the real value of this site is going to be in the REtipster Forum.
I know, I know – there are plenty of other real estate forums on the Internet. For the most part, they all do a great job and I'm not trying to detract ANYTHING from what they're already doing for the investing community… so what makes the REtipster Forum so special?
I have noticed that land investing as a whole, is still a very small niche… so small in fact, that most of the voices I hear in these forums have very little (if any) real knowledge or experience to add to the conversation. The perspectives I've heard in these forums usually doesn't take our specific strategy into account as a result, it leaves a lot of would-be land investors frustrated. They aren't getting real answers because so few people know what they're talking about.
For the most part, I think land investing is a strategy that is still largely overlooked by the masses – and that's perfectly fine with me. My goal ISN'T to convince that world that this is the best investing strategy of all time (because let's be honest, most people just aren't going to see the light). Instead, my goal is to simply be the best possible resource for those who have done the math and figured out that this is an opportunity unlike anything else on earth.
How Much Does a Membership Cost?
As of the date of this writing, there are two simple subscription plans:
Monthly: $97/mo
12 Week Course (New Module & Lessons Released Each Week)
REtipster Forum
5 Bonus Modules (Monthly Releases Upon Course Completion)
Access to All Tools from the Gear Up Page (Released in Weekly Increments w/ Course Content)
Annual: $67/mo (paid annually)
12 Week Course (Immediate Access to All Modules & Lessons)
REtipster Forum
5 Bonus Modules (Immediate Access)
Access to All Tools from the Gear Up Page (Immediate Access)
The obvious benefit of the annual plan is that for a longer (12-month) commitment, you'll get access to everything, immediately, and the price will be significantly less than the month-by-month plan.
That being said… if people aren't ready to jump in with both feet yet, they can certainly test the waters with the monthly plan – that's why it's there.
I'll be honest with you – I'm not a pro at this "membership website" stuff. It took a TON of brain power and outside help for me to pull this thing together. My primary concern was to create a resource that would be legitimately useful, easy-to-follow while offering an abundance of value from every angle.
In terms of the marketing and promotion of this site – I definitely DON'T have it nailed down yet, but I'm hoping to get better as this project evolves in the coming months. In the meantime – this is the simplest, most affordable pricing package we could think of as this thing comes out of the gate.
What Do You Get?

The Guide to Land Investing is the first, BIG "course" that comes as part of any active subscription to the REtipster.Club.
On top of that, there are 3 additional bonuses that will take you beyond the basics, while deepening your level of effectiveness as a land investor.
Depending on how things progress with this site, my goal is to continue releasing several more bonuses in the future – all of which will be available at no additional charge as part of any existing membership account. As of now, these extras have no set release date – but just so you know, they're in the works. 😉
I should also be abundantly clear about one thing – at least 80% of the information in this course is already available right here on the blog, but there are a few key differences between this membership site and the blog:
The membership content is organized to a T, showing you the precise steps (with a detailed action plan) on how to start and finish any prospective land deal.
All of the regularly-paid downloads are available for FREE as you move through this land investing course.
As a member of the site, you'll have access to a well-managed, well-moderated forum where you can ask questions, start conversations, connect with each other and figure out how to get through this business (and of course, I'll be in there as often as possible to add my 2 cents to the conversations that are happening).
I am fully expecting that people will make some huge discoveries on this site – particularly on the forum. I am planning to spend some considerable time answering as many questions as my time allow.
I think people will also be pleasantly surprised to find that I'm not the only person who knows a lot about land investing. There are a lot of fellow real estate investors who collectively have the knowledge and power to help each other move to the next level, and through the power of dialogue, we're going to elevate everyone's level of expertise at this profession.
While this site isn't for everybody, it is fine-tuned to provide exactly the kind of step-by-step guidance that new land investors need as they're getting into this niche of real estate.
If you're one of those people – I'll see you on the other side!