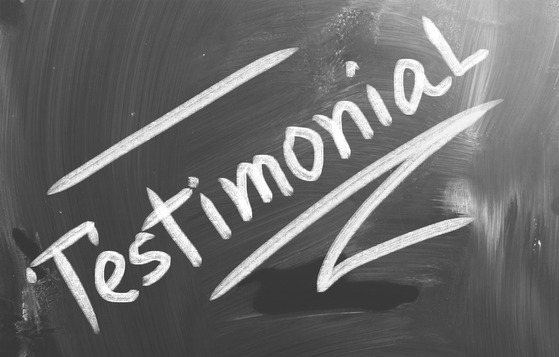 As the readership of this blog has grown, I've heard skeptical comments from time to time about what I claim to do in my real estate business.
I actually understand the skepticism – I really do.
The first time I heard about the concept of buying properties for a fraction of market value and then reselling them (sometimes very quickly), without making any improvements, for several times the initial investment… I remember feeling skeptical too.
For the longest time, I resisted the nagging feeling that I needed to show "Testimonials" on my website. For some reason, I felt like it would come across like I was trying to "sell my system" or convince people that the investment methods I talk about are the best.
I eventually came to the realization that testimonials are very important. The average person hears hundreds of sales pitches on different systems and programs throughout their lifetime – and it's not easy to know where to turn when so many people aren't straightforward and truthful about what they're selling.
My goal with this page ISN'T to convince you to do what I do. I'm simply showing you that there is a great deal of legitimacy to the things I'm talking about… so that IF you decide to dive in, you'll know that you aren't just chasing after some pie-in-the-sky dream.
I get emails pretty regularly from people who have used my blog to make money on their own (many of them without paying me a cent). Most of the testimonials below are from people who have reached out directly to me over the years or have simply posted their experiences in public forms (in the majority of cases, with no prompting from me).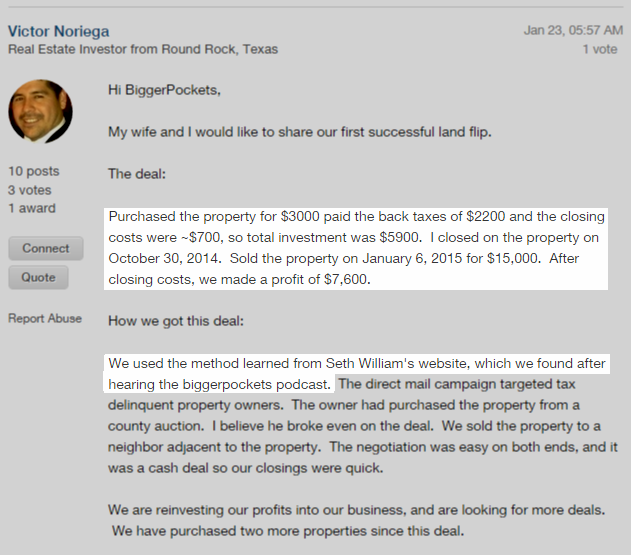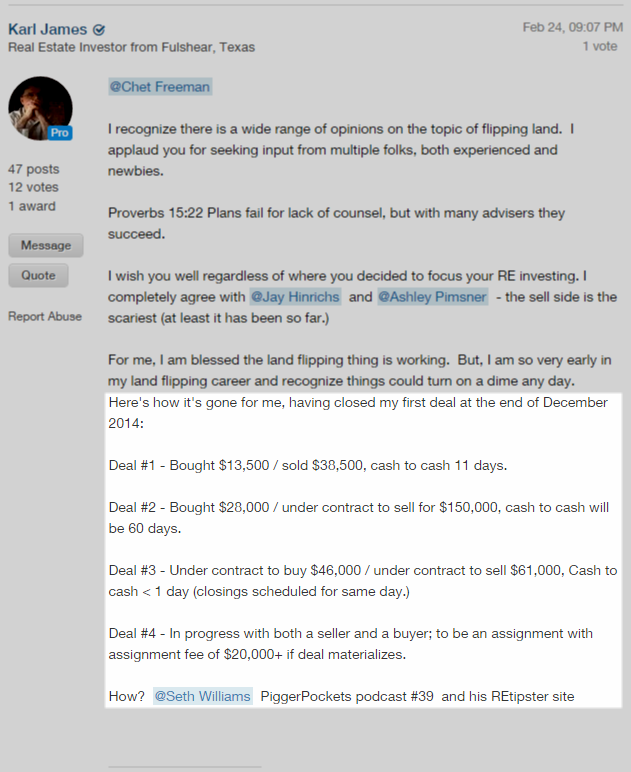 Also, here's a recorded conversation I had with Karl about his experience – pretty interesting stuff…
Harry Asnien
New Orleans, LA
Seth and REtipster.com have been my main inspiration and guidance for getting into land investing. I've been astonished at the amount of free content he gives out in a niche where others are quick to charge you for advice.

After following the blog for a year, I took the plunge and followed his guidance. Within a couple months, I had bought and sold a 4 acre property (from the comfort of my own home) for a 500% profit. THIS IS ADDICTING. I've seen the training course Seth had put together and I know it will change people's lives like it has changed mine. The no hype, no BS approach to teaching all the nitty-gritty of land flipping makes learning this business enjoyable and fairly easy.

I would definitely recommend this to anyone trying to add extra income and financial security to their life. My only regret is that I didn't take action sooner! ~ Harry Asnien
Dave Fritch
Pasco, WA
I had tried flipping houses and had done okay. When I first heard Seth interviewed on the Biggerpockets podcast I was excited because land flipping eliminated the 2 biggest headaches I was experiencing; financing and rehabbing.

Seth has unquestionably been the biggest and best source of information and leadership in building a part-time business that has yielded fantastic financial returns. I made a decision to follow Seth's methods pretty closely and not try to reinvent the wheel. I think it was a smart move. My first mailing I bought two parcels from one seller for $9,000. Within 6 months I had sold them for $24,000 total. About 9 months in I bought a parcel for just under $2,400 and sold it for $14,950 within 60 days. ~ Dave Fritch
Ben Andrews
San Diego, CA
The REtipster.club has played a major role in getting me started in land investing. Without Seth's program, I doubt that I would have made it very far, if anywhere at all. REtipster.club provides the tools and guidance necessary for anybody to get started in land investing and the forums were instrumental in allowing me to bounce ideas off of other land investors. It's a great community and Seth is always chiming in with feedback from his years of experience. Yeah, yeah… but what about the results, right? If there are no results, what's the point?

Yeah, yeah… but what about the results, right? If there are no results, what's the point? I agree. I was able to buy a quarter acre lot in Northern California for $100 (yes, that's one-zero-zero) and sell it 6 months later for $5,000. Now, of course, there were marketing expenses and other costs involved in acquiring that piece of property, but the return on my money was still around 1,000%! I am grateful for what Seth has put together at REtipster.club and have no reservations recommending it to you.

Ben Andrews
San Diego, CA
Roman Northcut
Orlando, FL
Its been about 7 months since I reached out to you last….this was when I was just starting to send out some letters.

Well, 7 months later and Im happy to say I have put under contract and acquired about 60 properties at this point.  60!  Holy crap I never would have thought!  I've sold about 25 of them and many with seller financing.

First I want to again say thank you for your contribution.  It is a HUGE help to a newbie like me.  When I started, I didn't know what a deed was…now my goal is to have one of the top land website on the net.
Gary Horton
Hi Seth, I owe you a huge thanks as I first heard about land investing on your podcast. I was a struggling wholesaler at that time and now do very well in the land flipping business. I absolutely love it and have enormous room to improve and grow. Thank you for the awesome content you provide I'm sure there are many who appreciate and benefit.
Billy Rogers
Euless, TX
What are you doing with the money you are making?

I've paid off a rental property, taken a few vacations, helped pay for a relative's funeral, set aside taxes and reinvested the rest. Paying off the rental was big goal for me. I enjoyed the Dominican Republic and Costa Rica. Oh I almost forgot I'm paying for laser eye surgery next month with some of my profits.

I hope none of this sounds like bragging because I really just wanted to say thank you to Seth because you were the inspiration for me getting into land flipping and it has really made an impact on my life.

My future goals are to acquire mobile home parks and small apartment buildings….and quit my job:)
Alan L.
White Plains, NY
Daniel Inskeep
Los Angeles, CA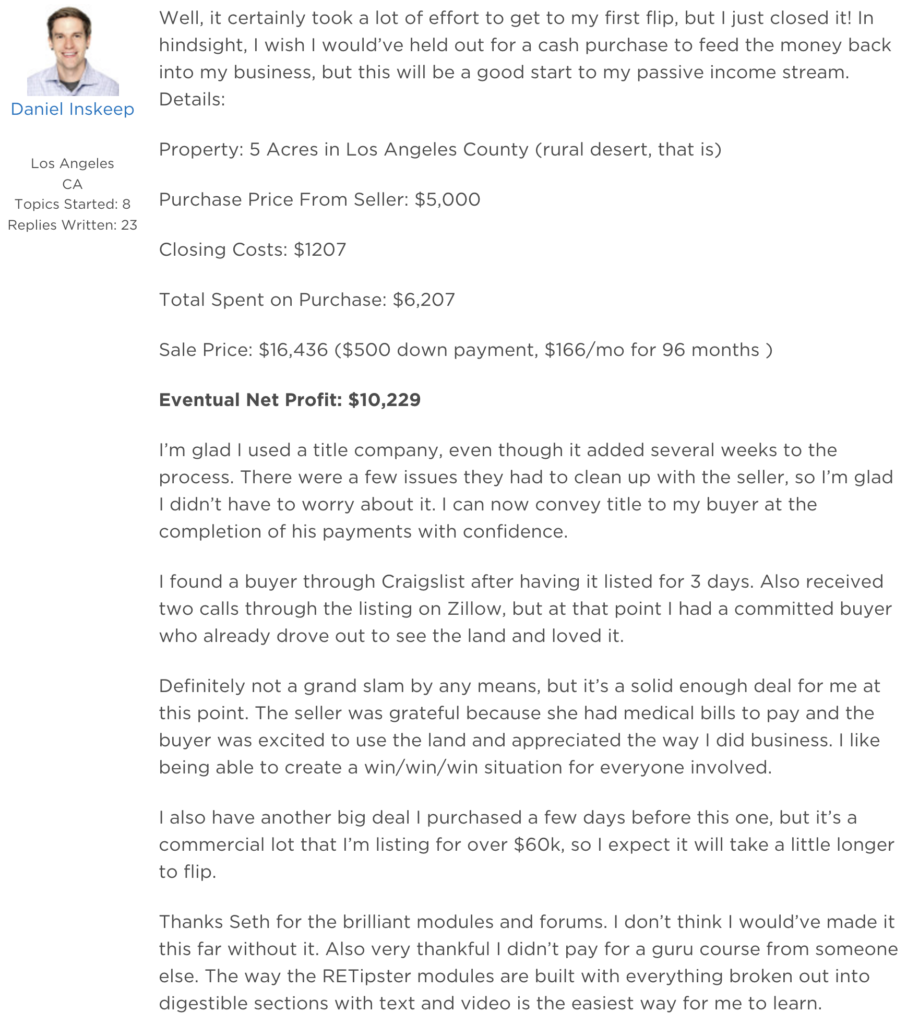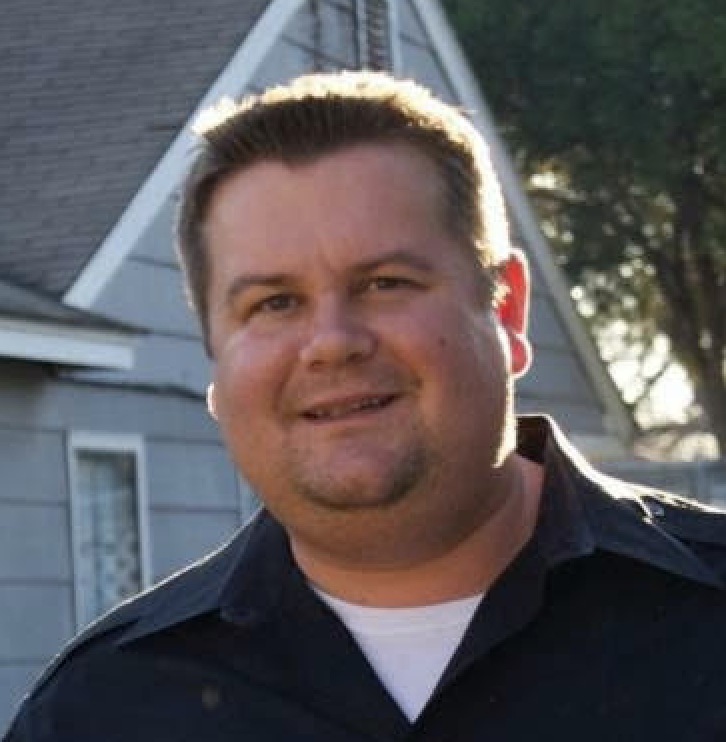 Greg Srader
Texas
Seth, I would like to thank you for everything that you do!
I found your website, and sent my first 250 postcard mailer in June. I received a 6% return rate, and had a chance to purchase 4 properties.  Three of these were in a subdivision with high HOA fees and 1 was in a flood zone. I decided that none of these were a good fit for me.
I modified my list from the same county, deleted the owners who were in these subdivisions, and sent my second mailer of 440 post cards.  I received a 7% return rate and had the chance to purchase 4 more properties!  Two were in a very rural area with limited  access, and one was in a flood zone. The 4th property was a beautiful .5 acre wooded lot in a sought after school district!  This lot was appraised for $40,000 and we purchased it for $1500 + $1300 in delinquent taxes and $750 in closing costs. We sold this today, 40 days later for $9500!
I have learned a lot on my first sale and believe that I am very close buying more property. These are some of the things that I have learned:
Get used to hearing the word NO! A lot!  I have worked in sales for several years, and am used to this, but it still frustrates me at times.
Set your offer range and stick with it!  I was really close to overpaying for a beach lot that I found in my 3rd mailer.  I love the area and wanted to keep it for myself if it did not sell.  Thank God my Wife was there to keep me on track!
I need to learn to do most of the closing work on my own. We were lucky to find a property that had enough profit to pay for the $750 closing cost.  This will not be the case on some of the lower priced properties that are abundant in this area.
DON'T FORGET ABOUT THE CURRENT YEAR'S PRORATED TAX BALANCE!!! I did not know that I was responsible for this year's taxes! I was informed that I owed $700 in taxes when i showed up to close! Thank God this property had plenty of profit margin and easily covered this balance!
Don't rely on the county's appraisal rate when setting your purchase and sale price. A realtor advised me to list this property for $27,500.  I listed it at this price for a week and got zero emails or phone calls.  I dropped it to $15,500 and got some interest.  I dropped it to $11,000 and the calls began to come in.
List your property on any website that offers free advertisement. I got a lot of inquiry from buy/sell/trade groups on Facebook.  I also used Craigslist, ForSaleByOwner.com, Zillow, and a very popular local classified website called SouthEastTexas.com (my buyer found me on setx.com)  I was disappointed with Zillow.  My property was the #1 viewed in this city for the last 40 days, it was viewed 1400 times, and I only received 1 email.  Zillow allows realtors to advertise on for sale by owner adds.  I cannot prove it, but I am pretty sure that the realtors received some inquiries that were not shared with me. (I called Zillow,  and I was told that they received some inquiries about my listing, but they would not tell me how many)
DON'T GIVE UP!!!! These mailers have taught me that there are more motivated sellers and more property available than I will be able to buy!
Please keep up the hard work. I really enjoy reading your blog and would not have purchased this property if I would not have stumbled across REtipster.com!!!
Thank you,
Greg Srader
Jeff Johnson
Hello friend. Just wanted to say thanks for the info you put out. I have been able to purchase several properties. One property was 5.95 acres I bought for 2500 sold for 11000 within a few days. I have bought 5 more today and with a realistic potential of about 10 times return on my investment on each. Pray for us! – Jeff Johnson