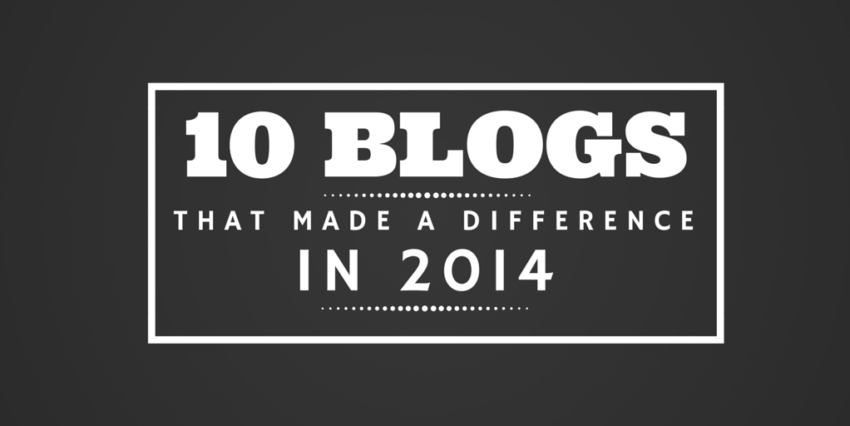 2014 was a great year for real estate blogging.
A lot of people in this online space invested some significant time in putting out phenomenal content on their respective websites this year.
It gives me a great sense of accomplishment to know that the work we're all doing is making a lasting impression on people. This year more than ever, I've started to realize that this whole "content creation" thing is part of what I was born to do. This little blogging project that I started on a whim back in 2012 has grown into one of my all-time favorite hobbies (and I have YOU to thank for that).
Even with all the fun I've had this year, the fact is that my website hardly scratches the surface of what ALL the other real estate blogs have brought to the table. With this in mind, I wanted to use this post to highlight a few blogs that I think have made a real difference this year.
What's So Special About These Blogs?
Each of the 10 websites that I'm going to highlight below made a lasting impression on me for at least one of the following reasons:
They put out some extremely thorough and profoundly helpful guides, tutorials and/or services for their select real estate niche – and they did it all for free. This is a remarkable achievement and these people deserve some serious props for that.
They published a significant volume of high-quality content. Even though their content didn't necessarily pertain to my situation or my business, they still brought a lot of value to the table for real estate investors as a group – and I think they deserve some serious props for that.
They were thought-provoking and in many cases have quite literally changed lives by helping readers to see things in a new way.
They were off-the-charts, over-the-top, really stinkin' entertaining. Whether they were funny, informative or just plain interesting – these websites brought a new level of quality entertainment to the real estate blogosphere, the likes of which we haven't seen before.
So let's get into it…

For those who are familiar with the site – this one shouldn't come as a surprise. BiggerPockets has been on the cutting edge of real estate blogging for years now – offering excessive value throughout their vibrant and active community, their blog (which pumps out new content every day) and their podcast. I'd be remiss if I didn't acknowledge the real difference these guys are making with their online real estate investing community.

If there's a better website designed to support the efforts of landlords and property managers, I haven't discovered it yet. This website is another goldmine of information, software and other amazing content for this major sector of real estate investing. If you own rental properties, if you're thinking about buying rental properties, or if you're managing rental properties for someone else – this website is a fantastic resource that you need to look into, right now.

I've always had a great appreciation for humor in life and real estate is no different. The problem is – there are very few real estate bloggers who know how to write with their humorous side AND pull it off well. This is part of why I was thrilled to discover The Lighter Side of Real Estate earlier this year. These guys really seem to get it. The stuff on their blog and their Facebook page is freaking hilarious, like, laugh-out-loud funny. I was really glad to see that someone out there (other than myself) showing people a new perspective on real estate. This is the kind of content I totally admire.

I discovered Placester when I was putting together a series of website tutorials earlier this year. After doing a few Google searches on the subject, I found that these guys had a lot of helpful content to offer on the subject (far more than anything I could bring to the table by myself). After diving into this blog a bit further, I found that this was another goldmine of online marketing resources for real estate professionals. If this is an area you're even remotely interested in, you owe it to yourself to check out this site pronto. It's worth your time, trust me.
This site is technically geared towards real estate agents, but as I found through my various guest posts for the site this past year, this is another online resource that not only pumps out a TON of regular content – but it has a lot of overlap with the real estate investing realm as well. The topics on this blog touch on things like selling, marketing, websites, industry updates and much more. If you aren't familiar with Inman News or Inman Next – this is another one of those things to put on your "To Do" list.

This blog isn't specifically geared towards real estate per se (although there are a number of real-estate-related themes in play), but even so – I thought this website deserved a spot on this list. After hearing about this guy for months, I finally started digging into his blog this year and I'll be honest – it blew my mind. When it comes to the subject of financial freedom and wealth building, Mr. Money Mustache takes an approach that seems obvious in hindsight, but I have to admit – I had never even thought about this whole "frugality" approach before. This philosophy is one that most people in our nation desperately need to hear about. If you're looking for faster retirement, better financial security and greater control over your finances, you need to check this out… it might just change your life.

John Fedro is a name I've seen pop up time and time again since I started blogging and there's a good reason for it – his content rocks. Coming from a land investor, there are some obvious parallels in my business that go hand-in-hand with a niche like mobile homes. While I don't consider myself anywhere near an "expert" in mobile homes, the concept has continued to fascinate me and John has done an amazing job of delivering helpful, informative and eye-opening information about how to make a real business out of mobile home investing. If this is a topic that interests you, you should take a look at his blog today. There aren't many sites out there that deliver this much helpful content on the subject.

Prior to this year, I didn't have much interest in (or experience with) the world of real estate agents. After checking out Bill Gassett's blog, I started to realize that investors have so much in common with real estate agents (after all, we need each other)! After browsing through Bill's blog over the past 6 months, I've started to see why this guy is one of the top ranked RE/MAX agents in Massachusetts and has over 20K followers on Twitter – he knows that he's talking about. Seriously, check out any of his articles and you'll see what I mean. He's got a very rock-solid understanding of what an agent's role is and a great deal of his content is directly applicable to real estate investors.

Mark Podolsky is one of those guys I'm really glad I met. As some of you may have seen from my review of his course earlier this year, this guy does a great job of showing new investors exactly how to give land investing a real shot. He has some great ideas that I didn't even know about until I reviewed his course (stuff that would have been very helpful if I had known about them back when I got started). This kind of detailed, start-to-finish training can be a major benefit to those who are serious about getting started on the right foot.

Saving the best for last – of course. 😉 Now, I don't mean to "toot my own horn", but 2014 was a profound year for this blog. I've learned so much from you, I've benefited a great deal from the support of other bloggers and industry leaders – it's been an amazing 12 months and I have a lot of people to thank for that. The beautiful thing about a blog is, when it's done right, it turns into an invaluable library of information that millions of others can benefit from. It's been an incredible blessing to watch this website slowly turn into this kind of resource for a group of people that I have so much in common with.
Thanks to all of you for making this such an incredible year!