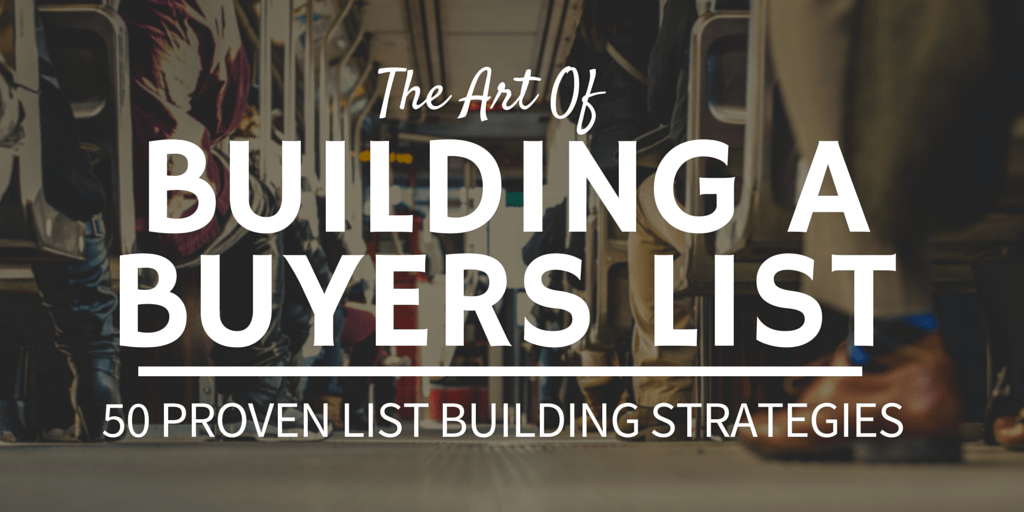 If you've managed to stumble across this blog post without first seeing Part 1, I'll start this off by explaining where you're at.
This is Part 2 of a 4-part series of blog posts where we're addressing the following steps on how to build a buyers list:
If you've already finished Part 1 and put together your list infrastructure, you might find yourself asking, "Now what?"
It's an important question, because Part 1 was just a small aspect of the overall equation. The REAL power of building your buyers list is in your ability to promote it.
The good news is, there are hundreds of different ways to go about promoting your website and building your buyers list. Just speaking for myself, I only have first-hand experience with a few key methods and I've found them to work quite well, so I'm going to start by showing you the ones that I believe are most effective.
If you aren't a big fan of strategies I'm using, that's okay too because I'm going to give you a whopping 50 creative list building strategies that you can start using today (so if my favorite methods aren't going to work for you, you'll have plenty of other options to choose from).
Let's get started with my favorite one!
1. Direct Mail
Probably the most convenient way to get started with a direct mail campaign for finding cash buyers is through a service called ListSource.
Our primary goal is to find the investors in a given market who have paid cash for their properties and did not record a mortgage. To narrow down this specific demographic, you'll want to start by choosing the "Geography" of whatever area you're targeting (I'd suggest that you pick the State and County of whatever market you're looking in).
Next, you'll search under the "Property" tab and use the "Equity%" filter. Then, instead of selecting a preset – type into the boxes below "From: 100%" and "To 100%".
Then, under the "Options" tab, choose "Absentee Owned" (and leave both of the sub-boxes checked). Once you have these items checked, you will have access to all the cash buyers. 🙂
If it this sounds confusing, check out the video below and I'll walk you through the process.
And of course, once you've downloaded your list, you'll have to sort it and mail it – so here are a couple of videos to help you through those steps as well…
Once your list is sorted, the next step is to upload your excel file to Click2Mail (aff link), which will fully automate the printing, stamping and mailing of your postcards (and they'll do it for MUCH less money than it would cost you to do it all yourself).
If you aren't sure what kind of postcard you should be sending to your recipients (i.e. – What should you say? What should you offer? How can you get a response from your recipients?), be sure to check out the next blog post in this series, where I'll show you some highly effective postcard templates that can pull a major response rate out of your direct mail campaign.
2. Craigslist
The great thing about Craigslist is that it's FREE and extremely effective, simply because it's such a huge marketplace for real estate.
Craigslist has changed a lot since I first started using it to build my buyers list 5 years ago. The original technique behind this approach used to be very easy and effective, but over the years (as spammers and other garbage posters started clogging up the "For Sale" sections of the site), Craigslist has ratcheted down their posting criteria to be MUCH more restrictive than it was before.
At the time of this writing, there isn't a lot of flexibility in what you can write in your listings (no fancy html coding, no clickable images, no links to outside websites, etc). These new rules were created to keep a lot of the spammers OUT and the legitimate buyers and sellers IN.
So what does this mean for a real estate investor trying to build their buyers lists? Essentially, it means we need to be more creative with finding ways to let the world know about what we're offering and how people can get in on it.
The most effective and noticeable ads are going to have a great headline, high quality images and (for the purpose of what we're doing) a very brief explanation of what you're offering, what people can find out more.
Here's one example of what you could write:
My Realtor friends think I'm crazy.

I've got a vacant lot that I'm told is worth $100,000, but I'm only asking $20,000 for it. Why? Because I needed it sold YESTERDAY.

As you can see from the pictures, it's not a bad piece of real estate, and by anyone's standards – $20,000 is a steal for this property.

Even if this isn't what you're looking for, I'm selling several similar lots and ALL of them are starting at no more than *50% of market value* (and there will be plenty more to choose from in the coming weeks).

If you have any interest, you can check out the full list of inventory at LANDBUYERSCENTRAL.COM. You'll see what's available today, and you can sign up to be notified when the next deals come to market in the coming weeks.
For an example of how to do this, check out the video below:
For more details on how to write effective ads that comply with Craigslist's rules, check out this blog post.
RELATED: SOLD! How to Write Real Estate Ads that Sell Properties Fast
Free Promotional Strategies
3. Using the same approach explained in the Craigslist video above, pull new traffic into your website from Backpage.com.
4. Include your website link in your email signature (make sure everyone you email knows about your buyers list).
5. Include your website link in your forum signatures (make sure every comment and forum post includes a mention of your website URL).
6. If you have any other websites on the web, add an opt-in box or link back to your landing page.
7. Get out and place some bandit signs around your local market area (assuming it doesn't conflict with any local rules).
8. Ever see other bandit signs around town? Call them up and see if they want to join your list!
9. Post your business cards and/or brochures on some local bulletin boards (restaurants, salons, college campuses, schools, etc.) – there are a lot of eyeballs that pass by these areas every day.
10. Attend some local Rental Property Owner Association meetings.
11. Attend some local Realtor Networking Events and Classes (note: you don't always need to be a licensed realtor to attend these).
12. Call your local Title Company and ask them if they can give you any ideas as to who the local power players are.
13. Call some local home builders and see if they are looking for any new rehab opportunities or construction projects. A lot of these guys are constantly on the looking for new buying opportunities that make sense.
14. Network with some local mortgage lenders, ask them for ideas on who is buying right now.
15. Call some local "For Rent" signs, talk to the landlords and see if they're looking for any new investment opportunities.
16. Call some Section 8 property owners and see if they're looking for more opportunities.
17. Attend some Tax Deed sales. These are FULL of hungry investors who are looking for deals.
18. Attend some Foreclosure Auctions, these tend to be saturated with cash buyers. Tell them about your properties for sale and you may have new buyers tripping over each other to join your list!
19. Call some Hard Money Lenders and see if they can help you make any local connections.
20. Find some local real estate attorneys, ask if they can point you in the right direction (or if they'd like to join your list themselves).
21. Talk to your local banks and credit unions, see if they can help you understand what their biggest sources of buyers are (since you are essentially offering a complimentary product/service).
22. Whenever you call anyone, for any real estate listing, as if they'd like to be added to your list.
23. Whenever a buyer calls to inquire about your current listings, ask if they'd like to be added to your list.
24. Call some of the "housing wanted" listings on Craigslist and see if they're looking for new opportunities.
25. Check the MLS for properties that have sold for cash in the past month. Find the owner of the property and contact them to see if they'd like to be added.
26. Create a short video introduction about your list and the opportunities you have to offer. Post it on YouTube, and embed the same video on your landing page.
27. Let the world know about your properties through public speaking engagements.
28. Search for "Real Estate Investor" on Facebook, Twitter and LinkedIn to find anyone in your area who has this listed as their job title. Reach out to them and ask if they're interested.
29. Call up a few local building inspectors and ask if they know of any good connections (they deal with some of the highest volume buyers and sellers in your market).
30. Talk to some local appraisers. They will know some of the biggest names in the business and which investors are currently buying properties.
31. Make connections with some of the other sellers in your area. Leverage their networks to find buyers for your properties.
32. Talk to some property management companies in your area. These people work with dozens of hungry investors and have tons of local connections.
32. Join some Real Estate Investor forums (such as this, this or this).
33. Search for local groups on BiggerPockets and figure out which people are looking to buy properties in your area.
34. "Reverse Bird Dogging" – Call some of the well-known investors in your market. Give them your personal attention, tell them that you have some great opportunities and that you've been thinking specifically about them (and what they'll get by joining your buyers list).
35. Call some local environmental firms and see if you can get any indications as to who the biggest real estate buyers are in town (note: this will apply almost exclusively to commercial properties).
36. Check out your local home builder conventions and trade shows. Talk with the exhibitors and attendees and see if you can make some connections with buyers who want to be on your list.
37. When people submit questions on your website, give them an optional "check box" to voluntarily have their email address and other contact information automatically added to your list.
38. When prospective buyers ask questions and inquire about your property listings on sites like Zillow, eBay, LandWatch and the like, add their email addresses to your buyers list (warning: use this approach with caution – as it could be perceived as spam by some recipients, since you didn't obtain their permission).
Paid Promotional Strategies
39. Facebook Advertising: Advertise for the key demographics in/around the zip codes where your properties are located.
40. Google Adwords: Advertise for keywords like "land for sale" and "land investment" (and similar keywords) in/around the zip codes where your property is located. Pull visitors to your website to see your listings – or send them to a specific listing that you're focusing your marketing efforts on.
41. Newspaper Ads (these may appeal to some of the "old school" investors in your market).
42. Use services like FlyerCo and Vflyer to reach buyers and get more attention.
43. FindCashBuyersNOW from Kent Clothier (note: I've never tried this myself, but I've heard positive reviews from trustworthy people…   so take that for what it's worth).
44. Interact with other investors on the BiggerPockets Marketplace.
45. Attend some paid seminars and network with other local attendees.
46. Create a few Banner Ads with Canva and start paying for direct advertising on relevant websites.
47. Join Connected Investors and let others know about your buyers list and landing page.
48. Put a giant magnet or sticker on you car and advertise wherever you go.
49. Join your local REIA and start attending meetings. You'll meet all kinds of buyers there!
50. Be the Real Deal. When people see that you do what you say and bring legit value to the table, the word will get out and your list will start growing itself.
My Recommendation
As you can see, there is no shortage of opportunities for you to start building your buyers list.
I'm not telling you what to do here…  but I think it's important to remember the 80/20 rule.
80% of your results are going to come from 20% of your overall efforts...
so figure out which methods are going to garner the best results and
focus your efforts there
.
You don't need to become an expert at ALL of these methods – heck, I'm not! Instead, spend some time pursuing a small handful of the ones that sound promising and focus on getting really good at just 1 or 2 of them. Once you've got your target set, you can keep sharpening your promotional skills in those specific areas.
Long-Term Success
It's also important to remember that if you're delivering real value, doing what you say and NOT using cheap gimmicks to build your list – you'll find that over time, your list will start to grow itself.
This should go without saying (but I'll say it anyway), being a sleaze bag is not a good long-term strategy. The real estate industry is FULL of people who flake out and lack any real legitimacy or moral integrity (because let's be honest, it's very easy to lie to someone you'll never meet face-to-face).
If you're simply doing what you say and saying what you do – you will automatically stand out from all the other "wannabe investors" in your market, and the few people who actually know what they're doing are going to take notice.
If you're still looking for more ideas that aren't covered here, feel free to check out this forum thread, which takes a deep dive into several other list building strategies that aren't covered here.