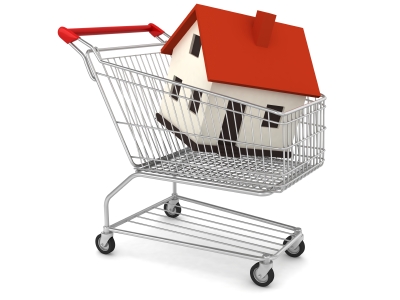 Once you've crunched the numbers and reviewed your inspections – you should have a pretty accurate idea of what you're getting into with any rental property.
The benefit of going through all of these steps is that it significantly reduces the amount of guesswork, uncertainty and overall "risk" that you have to deal with as you're entering into the transaction.
Personally, I don't like to gamble with my money. I want to invest in projects that are a sure thing. While there will always be SOME level of uncertainty in any transaction, these steps that we've gone through can truly set you apart as an informed investor, rather than a "gambler".
Closing Process
With this particular property, my intent from day 1 was to "assign the contract" to a third party buyer.
In other words, my plan was to take my purchase agreement and literally sell the paper to another investor. This strategy is widely known in our industry as "Wholesaling".
How Does Wholesaling Work?
When I signed this contract with this seller, they gave me the legal right to purchase this property for $27,500 within a specified period of time. Well – what if someone else wants to buy this property for $27,500 too? I am literally allowed to take my legal right and sell it to them. This is allowed because the seller gave me their written permission to do this (it is stated very clearly as an "assignment clause" in our contract).
This kind of transaction happens with a 1-page form called an "Assignment Agreement". This document is signed by myself (the "Assignee") and the buyer (the "Assignor"). The buyer pays me a set amount of cash and in exchange, they can jump into my shoes and take my place in the original purchase contract.
When Does Wholesaling Work Best?
This type of transaction generally works best when the purchase agreement is being assigned to a cash buyer (i.e. – a buyer who doesn't need to use a bank or lender to purchase the property).
Why? Because whenever a bank gets involved with a real estate transaction, they have a tendency to add a lot of restrictions and rules that will make it very difficult (if not impossible) for the wholesaler to get paid.
Luckily, I was dealing with a cash buyer – which is part of what made the whole project possible.
The Assignment Fee
There are a couple of different ways that I charge assignment fees.
Method 1: If I have a property under contract for a ridiculously low price (say, 20% of market value) – I generally feel comfortable charging a sizable fee, simply because there is a HUGE profit margin available that I can pull from. If the deal makes sense, the seller will gladly pay it because even with the cost of my fee, they are still getting an awesome deal (which they wouldn't have found without my help).
Method 2: If I have a property under contract for a respectably low price (say, 50% of market value) – I will charge a 6% – 10% assignment fee (similar to a realtor commission).
Now let me just clarify… I am NOT a real estate agent (nor do I ever intend to become one). There is a distinct difference between what an agent does, and what I (as an wholesaler) do.
When I structure a deal like this, there is literally a purchase agreement signed between ME and the seller. Once this contract is signed, I have an marketable interest in the property.
A realtor doesn't have this kind of arrangement. Instead, they are signing an agreement whereby the seller authorizes them to market the property on their behalf in exchange for a commission if/when the property sells.
Selling property on behalf of a property owner without a license isn't legal. However, if you're selling your marketable interest in the property (i.e. – your executed purchase agreement), this is a completely different scenario. This is a very important, key difference between these two types of business arrangements.
Note: In this particular case study, I was dealing with a unique situation. I was assigning this contract to a family member and as such, I chose not to charge a fee for these services. That being said – I could have easily walked away with anywhere from $2,000 – $3,000 from this deal if I needed to.
At The Closing Table
The closing process went very smoothly. The seller met at the office of our title agency in the morning, and my buyer met at the same office later that afternoon. During this process, the following things were transferred from the seller to my buyer:
Current building inspection certificate
Copy of the Current Tenant lease
Tenant Unit Condition Checklist
Original Tenant Application
Tenant Security Deposit
Keys to the House
My buyer then had to complete the following items with their new property manager:
Execute Management Agreement
Execute W-9 (this is an IRS form)
Sign Up for Direct Deposit (easiest way to get paid)
Hand Over the Keys to the House
Hand Over the Security Deposit
The transaction was seamless and there were no major hiccups along the way.
First Month's Rents
During their first month of operations – my buyer earned a whopping $10 of rental income from this property (yippee).
There were a few reasons for the lackluster start:
The tenant only paid $600 of their $750 rent
There were some small, but immediate repairs that needed to be done
The property management company had to recoup their initial start-up costs
This is the reality of owning rental properties. It would be very atypical for an investor to come blasting out of the gate with their best possible outcome on the first month. It just doesn't work that way.
It's not unusual for the first month of operations to be disappointing, but there are a few key takeaways to learn from this.
Often times, rental properties come out of the gate sucking wind. When you're acquiring an older property with an existing tenant…

be patient

. Dealing with deadbeat tenants, repairing things that should have been fixed years ago, paying for sins of the previous property owner, and more are ALL very real possibilities immediately after you buy. For this reason, ALWAYS be conservative when you are running the numbers on any rental property. I'm not trying to lump all sellers into the "liars" category (because they're not all "liars" per se) – but as a general rule of thumb, don't assume that they are telling you everything you need to know. I've dealt with a lot of reasonable, respectable sellers – but they still

didn't tell me 100% of the details. Allow some room for error when you're evaluating the deal.

Maintenance is something you'll always have to save for. If you're purchasing a property that is over 50 years old (which accounts for almost every property I look at), maintenance will be an even bigger issue to factor into your cash flow. This is okay IF you are buying the property for a low enough price. Just remember – when you buy an older property, you need to allow some room in your cash flow for some "question marks".

Be conservative

and allow for some small, bad things to happen without putting you in the red.
Build up a 6 month reserve and maintain it. You should always have a reserve of cash available to cover the costs of your property when it doesn't cash flow. For example, if the tenant in this property decides to stop paying his rent altogether – he's going to get evicted, no questions asked. If this happens, the property will be without revenue for at least 2 – 3 months, best case scenario (maybe even longer).
When I bought my first rental property, my property manager was very upfront with me and said: "Plan for a net loss your first year." Even though I was getting a great deal and the projections looked awesome – he was still right.
When you're dealing with some of the issues listed above, there are a lot of unknowns – and things inevitably don't go as planned. Be prepared for this.
What to Expect Going Forward
In this case study, we analyzed this property using the same process that has been proven by a lot of highly successful real estate investors. Our evaluation was thorough, we verified our assumptions and we took every feasible issue into account.
I anticipate that my buyer will have a lot of costs during their first year (judging by the age and known issues in the house) and they may lose their tenant relatively soon if he doesn't get his butt in gear with his monthly rent payments (the previous owner evidently wasn't very strict with this).
These issues will probably take a toll on the property's profitability during their first few months of ownership – but once the repairs have been made and the right tenant is placed in the property – they should be able to consistently generate the monthly cash flow that was projected in our initial evaluation (if not better).
Again – this is not a property that throws off massive cash flow, but I think of it more as a "first experience with a rental home" type of property. It will generate some small supplemental income for the new owners and will be relatively easy to sell (if/when they want to liquidate the property) because it is a very generic, affordable property in a densely populated area of town. These are great properties to have when it comes time to sell.
Final Thoughts
As with any real estate investment – buying rental properties takes a lot of homework. Rental properties don't necessarily come with the glamour and huge paychecks that "flipping houses" is known for – but it is a proven method of building multiple streams of permanent income. If you're looking to quit your day job and retire early – this is one solid way to do it.