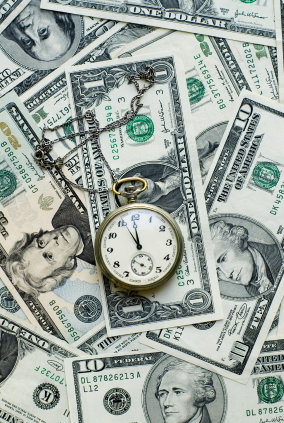 It's one of the biggest challenges that any new investor has to deal with.
Very few of us are lucky enough to dip our toe in the water of real estate investing and immediately start making a living from it. It just doesn't work that way.
It takes time, and during that time, we have to find ways of balancing our current situation (whatever that may be) with our dream of building a better life.
Anyone can create a significant income from real estate but if you want to do it quickly, you'll have to be very efficient and effective with the time and money you have at your disposal. When you're starting out as a part-time investor, your time and money is precious and you need to spend it on things that lead to tangible results. Failure to do this will lead to frustration very quickly, and you'll have little or nothing to show for all your troubles.
Being a part-time investor for the past 5 years, I've been forced to learn some of the most important lessons on how to get the biggest bang for my buck, and how to focus my time and energy on things that will actually pay me back in short order.
1. Learn to qualify prospects in Three minutes or less
Taking a page out of my friend Claude Diamond's book – it is immensely important for you to "give good phone" to your prospects. The phone is a tool that has the power to make you a very wealthy investor – or conversely, it can sabotage your effectiveness and destroy your productivity.
If you want to survive as an investor, you simply cannot afford to waste time with people who aren't going to do business. The only way to safeguard yourself is to:
Learn how to identify a serious prospect.
Once you determine that a prospect isn't serious – get off the phone.
Much of your ability to do this will depend on your level of confidence on the phone. Some people are naturally gifted at phone conversation and others need to work at it. If you don't feel confident on the phone, you can get better by simply practicing, or you can do what I did in my earlier days by creating a voicemail message that captures most of the relevant details up front (note: you may miss out on some opportunities this way, but you'll also save yourself a ton of time).
However you want to handle it – just know that the phone is something you need to get good at and manage well. Again, much of this comes with practice – and given it's undeniable importance, I'd suggest that you start now.
2. Get Organized
I'll be the first to admit that this can require a bit of trial and error – but it is crucial to your long-term success as a real estate investor.
If you haven't figured out a good system to organize your files, phone numbers, messages, emails, letters and thoughts – you need to (because frankly, you won't survive without it). There isn't "one right way" that your files and information need to be organized, but the key is for YOU to understand the logic and flow of your system, where to find things and how to pull up information quickly.
DON'T get in the habit of writing things down on post-it notes and sticking them all over your office. You will lose information, you will forget things, you will waste a ton of time and you will go crazy. Trust me.
DO use spreadsheets and other online tools like Dropbox, HighRiseHQ, RingCentral and the like. These are highly effective, cloud-based systems that are designed to help investors just like you and me to keep our heads on straight. One of the benefits of living in the information age is that we have access to these kinds of tools. In many cases, they are worth the minuscule amounts of money you'll have to pay for them – so don't be afraid to put them to use!
3. Focus Your Energy On Activities That
Actually Make Money
In my first two years of investing, I was 100% guilty of breaking this rule (primarily because I just didn't know any better).
One of the downsides of living in the information age is that there are an infinite number of distractions parading around as "valuable activities" for your business (when in reality, these activities are usually the complete opposite).
For example, here are some things that DON'T deserve the lion's share of your attention:
Spending thousands of dollars on your company logo, letter head, business cards and a pretty website.
Making daily/weekly posts on social media.
Creating complex spreadsheets that do complicated calculations (and don't add anything to your bottom line).
Building a following on Twitter and Facebook.
Buying a top-of-the-line computer system, printer, external hard drive, office desk, smart phone, etc.
Now don't get me wrong – these things may have value on some level, but they don't have a direct correlation to your ability to make money in real estate. NONE of these things are a prerequisite to your success.
One helpful exercise is to ask yourself this simple question:
"If I only had 4 hours to work on my real estate business each week – what would be the most important task(s) for me to spend my time on?"
At the end of the day, you might be surprised to find that there is actually a pretty short list of things that NEED to be done.
For example, when I think about the inner workings of my business, these are the things that NEED to be done in order to make money:
Generate leads
Research properties and understand when you've found a deal worth pursuing
Send out compelling offers every day
Establish the sources of funding for your purchases
Find buyers for the properties you're trying to sell
Make connections and stay in contact with people who will help propel your business forward
Of course, everyone's business functions differently. Your list of "NEEDS" may look slightly-to-very different from mine (depending on what specific kind of real estate business you're running), but when you drill down to the necessities of running your business – there is usually a pretty simple picture of what needs to be done. Once you know what needs to be done – pursue those things with a vengeance and save the other stuff for a rainy day (or for never… never works too).