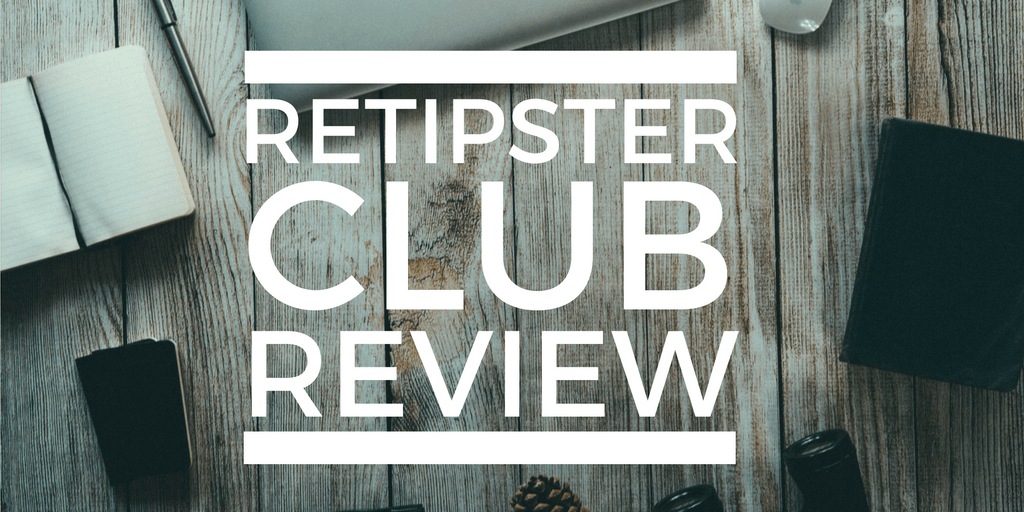 Every now and then, I hear from people who are interested in trying out the REtipster Club membership site – but after they've looked at the sales page and seen the high-level overview of what comes with the package, they still need more clarity on what they'll get if they decide to enroll and become a member.
I've always been a little hesitant to hammer my email list and readers with sales promotions for the site, because even though I've put a TON of work into the creation and maintenance of this platform, I don't want to be all about selling you stuff.
The only real downside to this approach is – I haven't always made it abundantly clear that this site even exists, and why YOU might want to sign up and become a member at some point… so with this in mind, my goal with this blog post (and video, below) is to give you a transparent look at what this site is all about, and what comes with the package for those who want to give it a try.
Now, I realize… it's impossible for me to give a purely unbiased "review" of this site because I own it and I created it. Nevertheless, for what it's worth – I always appreciate seeing an abundance of information on any product or service before I pay for it, and since this kind of comprehensive overview simply isn't out there right now (at the time of this writing, anyway), I'll to do my best to provide a more in-depth look at the site right here.
What Is It?
The central purpose of the REtipster Club is to provide a 12-module course on how to get into the land investing business, and how to take your land investing business to the next level.
The is a GIANT arsenal of everything I know about how to succeed in this line of work. It contains a comprehensive, step-by-step "playbook" that will take you through the entire process, from start-to-finish.
The course is set up in such a way that you can either start from square one (if you know nothing about the land investing business) and go through it sequentially, or if you're already well-acquainted with some aspects of the business, you can jump around to different sections of the course and zero in on specific aspects you want to learn more about (e.g. – how to sell properties faster, how to find deals, how to research properties efficiently, how to handle seller financing, etc.)
This video gives a pretty good overview, check it out:
Update: Since this video was recorded, the pricing options on the site have changed – more details on that below…
What Comes With A Membership?
As I discuss in the video above, every membership comes with access to the following areas of the site:
12-Module Course
This is the real "meat" of the site. This is a comprehensive course that covers all the basics (and then some) of the land investing business. There are 12 modules, and each module contains anywhere from 3 – 9 lessons within. The course content consists primarily of text, with dozens of videos and audio clips embedded throughout.
Some people prefer learning by reading, others prefer learning by video and/or listening – so I've tried to use ALL of these components to explain things in great detail. I've also been continually adding new elements to the course as I'm able to develop new forms of content and offer up solutions to some of the issues that users continually ask for in the forum.
Bonus Modules
When you're finished learning the basics in the course, I've included a number of bonuses as well that go beyond the basics. They discuss things like:
How to Build A Buyers List
How to Get Traffic to Your Website
How to Wholesale Land (by Assigning Contracts, rather than buying them outright)
How to Get Great Photos of the Properties You're Selling
How to Diversify Your Investments Into Other Types of Real Estate
Digital Downloads
If you're familiar with the blog, you probably know that I have several pieces of paid/premium content available through the REtipster Store (if purchased separately, the value is well over $1,000). As a member of the site, you will be able to download all of these items for free… so if you want to jump in with both feet, the price of a membership will cover the full cost of all the related material that goes into the land business.
Office Hours Coaching Webinars
Every month, I hold a free webinar for members only. It's a purely unscripted, hour-long session where I'm simply available to answer questions in real-time. There are no sales pitches, and I don't have any pre-planned material to discuss – I'm just available at my desk if you need help.
There are usually about a dozen attendees at each session, and each person can either post their questions in the chat box, or we can do a live, face-to-face conversation (similar to a Skype call). It's a great way to get help with your issues and/or gain insights on how to get through issues that your or others might be dealing with.
Webinar Library
Every so often, I prepare formal webinar presentations for readers of the REtipster Blog. Every webinar I've ever done, (including every Office Hours webinar I've ever held) is recorded – so if you're looking for a HUGE (and growing) library of recorded webinar content to learn from (and/or if you simply aren't able to attend of the webinars you were hoping to see), you'll have access to this growing treasure trove of information and content as long as you're a member.
REtipster Forum
Another interactive resource on the site is the forum. Again, this is a members-only resource where users can post their questions, help others who are going through similar issues and network with other land investors around the country.
In the land investing business, this type of forum can be a MAJOR help, because there are a lot of questions and obstacles that are virtually guaranteed to come up in this business, and it's impossible to address every possible situation in the form of a course. When you come across issues like this, there's an active community available to help you.
I am also in the forum on a weekly basis (usually multiples times per week), and I do monitor this forum very closely and get involved by directly answering many questions as I have the opportunity to do so.
Membership Levels
At the time of this writing, there are three membership options available:
Lifetime Plus: $197/mo (12 monthly payments)
12 Week Course (New Module & Lessons Released Each Week – for 12 weeks)
Bonuses (Monthly Releases Upon Course Completion)
Office Hours (Immediate Access)
Webinar Library (Immediate Access)
REtipster Forum (Immediate Access)
Access to All Digital Downloads (Released in Weekly Increments w/ Course Content)
The biggest benefit of this plan is that it doesn't require a massive upfront payment. If you aren't ready to jump in with both feet, this is the best way to "test the waters" and see what the site is like (however, it's worth noting that the 12 week course is released as "drip content", so it will take 3 months for the entire course to open up under this plan).
If you stick with this plan and continue making payments for the full 12-month timeline, you'll get lifetime access to the site, with no further payments required.
Lifetime Pro: $797/mo (3 monthly payments)
12 Week Course (Immediate Access to All Modules & Lessons)
Bonuses (Access 30 Days After Signup)
Office Hours (Immediate Access)
Webinar Library (Immediate Access)
REtipster Forum (Immediate Access)
Access to All Digital Downloads (Immediate Access)
The obvious benefit of this plan is that for 3 larger payments, you'll get access to the entire course immediately. The only delay you'll see is with the bonus modules, all of which will open up 30 days after your membership starts. All in, the price is also a bit less than the Lifetime Plus plan (assuming you plan to stick around and finish all the payments).
Lifetime Premium: One-time payment of $1,997
12 Week Course (Immediate Access)
Bonuses (Immediate Access)
Office Hours (Immediate Access)
Webinar Library (Immediate Access)
REtipster Forum (Immediate Access)
Forever Access to All Future Releases
The benefit of the lifetime plan is that in the end, if you plan on paying for the full lifetime membership, you'll end up paying the least with this option. You'll also get access to EVERYTHING immediately after signing up – so if you hate waiting for things to become available (and if you aren't a fan of making monthly payments), this is probably an option you'll want to consider.
Why 3 Different Pricing Plans?
I'll be honest with you – it always kind of bothered me how so many courses are only available with a HUGE upfront investment.
On one hand, I do get it. When the information is solid and can literally change the course of your financial future (as it did for me)… it's not asking all that much. For some of us, dropping a couple thousand dollars to get an education worth 100X that amount isn't necessarily a huge sacrifice. Many of us have the money, and we know the knowledge is worth FAR more than the price of admission.
On the same coin, I realize that many people simply don't have thousands at their disposal to pay for a good education. I get this too. When I got started, didn't have a lot of cash to work with, and even though I could usually identify a system that would work, I didn't want to burn through all of my startup capital just to learn the basics.
RELATED: The True Cost of Being a Land Investor
If you want the one-on-one coaching or the personal attention a mentor can give you, there are other courses and packages out there that may be a better fit for you. That's okay. I'm not going to tell you that MY course is the only real choice and the perfect fit for everyone. There are other educators out there providing good information too – and if you feel compelled to investigate those options, go for it. My objective isn't to steer you ONLY in my direction.
However, if you're looking for the best possible overview for the least amount of money (while still having enough cash to do your first direct mail campaign and buy your first few properties), then I think the REtipster Club is a very, very solid place to start.
Why Not a Physical Product?
One of the primary benefits of offering this course in an online, cloud-based format (without a printed, hard copy version), is that I can constantly improve and revise this material as the business changes.
For the most part, the fundamentals don't change terribly quickly, but they do change and when I hear people telling me what areas they need the most help with, where they're struggling, and where they're getting stuck – an online platform like this allows me to seamlessly offer many of those solutions without selling a new or revised version of the same course.
I should also mention that the website is also mobile responsive, so whether you're viewing the course content, forum or webinars from a desktop computer, tablet or phone – it will be easy to read from any device.
Desktop View:
Tablet View:
Mobile View:
See what I mean? The content is pretty easy to consume on almost any device.
Is This The Right Option For You?
It could be!
While I certainly don't think it's the only way you can learn and succeed at the land investing business – I have spent a good portion of my life learning the most effective ways (and even some viable alternatives) to make a KILLING at buying and selling raw land.
It's a great business, and in many ways – it's one of the simplest real estate investing models I know of… but even so, it's not necessarily the right business for everybody.
In the same way, I've seen people experience incredible success in this business (almost entirely on a part-time basis), I've also seen people give up and walk away from it. It happens – because this is a business that takes PLENTY of work, and it's not something anyone should sign up for unless they're ready to do some of the heavy lifting and learning required from the outset.
RELATED: The #1 Reason Land Investors Fail
That being said – if you see the logic behind the business model and you think you've got what it takes to make it work (and you probably do, believe me), I'd encourage you to sign up and give it a shot. Jumping into the land investing business could be the best financial decision you ever make. It was for me!
The Best Real Estate Investing Strategy I've Found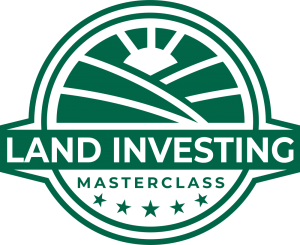 The most powerful strategy I've used to build my real estate investing career is NOT what you might guess.
Land investing (that's right, buying and selling vacant land) is a massive opportunity that most investors aren't paying attention to. For the few land investors who know how to pursue this business with the right acquisition strategy, it's an extremely lucrative and low-risk way to build serious wealth from real estate.
If you want to get the inside scoop on how to start and run your own land investing business, come and check out the Land Investing Masterclass – where I've put together a full 12-module course with dozens of videos, bonuses, downloads, group coaching sessions and a members-only forum (where we spend time answering questions every week). There is no better place to learn this business from the inside out!