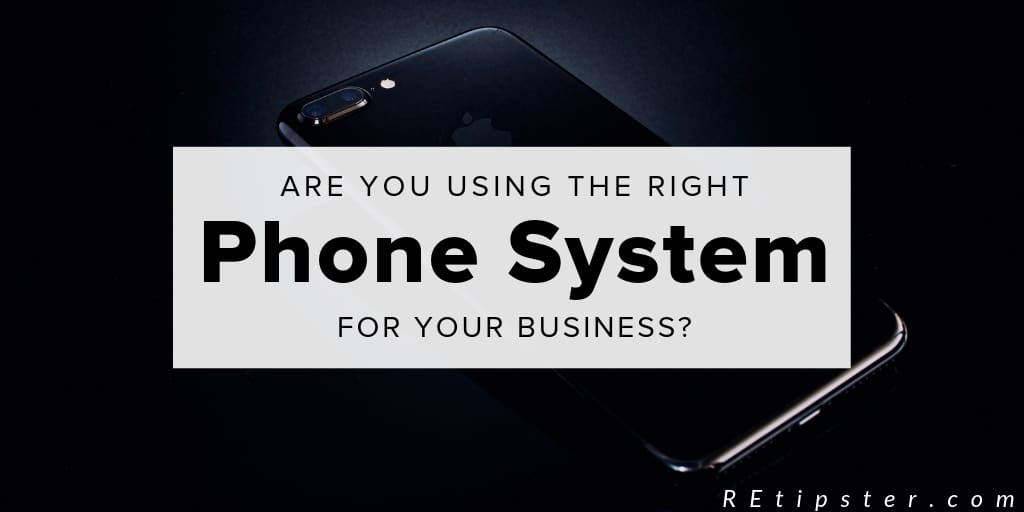 We're into real estate investing. We're also into keeping it real.
Some of the links in this article help to financially support this website, but the real-world guidance is all REtipster.
When you're running any kind of real estate business, the phone is going to be an important part of your life.
Even if you hate talking on the phone and you choose to route your callers through a special voicemail message, your phone system will STILL be one of the primary communication tools you use to find new opportunities, follow-up with leads, close deals, and make money.
If you're going to be effective in the business world, you must have a reliable, efficient, cost-effective and easy-to-use phone system that allows you to accomplish those essential, daily tasks every business owner needs to do. There's just no way around it.
Even if your goal is to spend less and less time on the phone (as mine has always been), you still need the right infrastructure in place. If you haven't already taken these steps, you're probably working a lot harder than you need to, or you're not doing the best job of managing your verbal communication with clients and customers.
We're going to fix that right now.
Why Is This So Important?
A lot of new entrepreneurs fail to see the importance of a solid phone system (especially in the beginning, when they're boot-strapping, pinching pennies, and scraping by with as little money as possible).
I totally understand the need for frugality – this is not inherently a bad thing. There's no shame in hobbling along and using the free tools at your disposal before the money starts coming in (this was exactly what I did when I got started).
In this day and age, there are ALL KINDS of free services and solutions that are more-than-sufficient to accomplish the various tasks we need to get done, and most of them can work just fine.
However, even though you can get a ton of stuff for free these days – a cloud-based, feature-packed phone system is one of the few items you might actually want to consider paying for right off the bat.
This video explains more…
The bottom line is, a good phone system is not something to cheap out on (or ignore altogether). When you're willing to pay the price for good communication, you're going to get some extremely valuable benefits.
The phone system I've been using since day one is called RingCentral and there are SEVERAL other service providers out there who offer similar packages at a similar price (e.g. – Phone.com, FreedomVoice). All of them probably do a fine job. RingCentral just happens to be the one that I chose from the outset, and I have the most experience with it.
RingCentral isn't perfect, but the service does offer all the features I've found to be VITAL for my business.
Faxing Capabilities (Incoming & Outgoing)
When I first set up my business number with RingCentral, I didn't realize how important its faxing capabilities would end up being, but it's huge. Let me explain…
The fax machine isn't something most of us gravitate towards these days. Email and other digital messaging options have made it much easier for people to send and receive documents, images, and other types of media.
The problem is, it's not just about your or my preferences. When you're dealing with every kind of buyer and seller under the sun, you'll learn pretty quickly that there are MANY different levels of sophistication out there, and just because you or I don't prefer using a fax machine doesn't mean there aren't tons of other people out there who do (perhaps out of necessity).
If you're working with a property owner who has a property worth $100,000, and they're willing to sell it to you for 10% of market value – trust me – you want to make it as easy as possible for them to work with you.
If a fax machine is the only way they can send you their signed acceptance today – you DON'T want to create barriers and make them work harder to give you what you want (all because you're not willing to pay a few extra bucks each month for the ability to accept faxes).
Answering Rules & Extensions
If you choose a paid service like RingCentral, be sure to record a nice greeting, create some extensions (if you need them) and set up some basic answering rules.
For example:
Are there certain hours of the day when you're not available to talk? Tell the system when you're "open for business" and willing to accept calls.
Do you want calls forwarded to another number during certain times and days (or after a certain number of rings), tell the system where to send calls at the appropriate time.
If your business receives calls from different types of people (e.g. – buyers, sellers, vendors, business associates, etc.), set up a few extensions for each type of caller. Give these people a better experience by providing them with a dedicated toll-free number and automatically routing them to the right person/department/voicemail box. This will save everyone time, especially you.
If you aren't sure how to do this – I'll give you a quick tour of the RingCentral Admin Portal…
Click Here to Learn More About RingCentral
The ability to set up these kinds of rules is a HUGE luxury. It will take some time to lay this groundwork in the beginning – but you only have to do it once, and believe me, it's worth the effort on the front end.
These days, I honestly don't even pick up the phone when a prospect calls me. My phone system is programmed to route callers straight-to-voicemail and this message (below) is what that they hear.
Note: If you want a copy of this exact voicemail script, you can find it at the bottom of this blog post.
Toll-Free Numbers
Toll-free numbers are one of the many perks that come with a paid phone system. In my opinion, a toll-free number is probably the least critical item on the list (just being totally honest), but it's nice to have when one the situation calls for it.
Working with one local number for everything is totally doable, but I've also found that toll-free numbers can be a great asset to have at your disposal (especially when you're dealing with clients outside of your immediate area code).
The additional cost of using a toll-free number is nominal, and it helps your business look like a serious operation. It also helps eliminate some of the minor reservations that some folks may have about calling you.
For years now, I've used two toll-free "888" numbers in my business – one for the buying arm and one for the selling arm of my business. My goal is to make these two arms appear and function like two separate businesses.
With two separate phone numbers
With two separate company names (a simple dba filing with my state)
With two separate websites
Luckily, RingCentral has made it VERY easy for me to organize my phone numbers in a way that aligns with this overall design.
RELATED: Never Rely On One Business Name. Here's Why…
Smart Phone App
When I first signed up for RingCentral years ago, their mobile app was a relatively new thing (and they had some bugs to work out), but this app has come a LONG way over the years.
The RingCentral app is an amazing little tool that comes with their service. At no additional charge, you can have full control over your office phone system, all from the convenience of your smartphone.
It doesn't just route calls directly to your mobile device, it also allows you to make calls on your cell phone from your business phone number (so you won't have to give out your personal phone number to every person you call for business purposes).
This has really enhanced my experience with the service and has given me a lot of freedom I otherwise wouldn't have.
The Cost of a "Free" Phone System
I've talked to several folks who have tried to rely entirely on a free phone service like Google Voice.
I'm not saying this can't work, but in my business, a free service like this just isn't a viable, long-term option. With the level of control I have with a paid service (with things like toll-free numbers, answering rules, forwarding rules, voicemail options and faxing capabilities, just to name a few), the benefits far outweigh the cost.
Even though a free phone solution won't drain your bank account, it will cost you in its overall lack of convenience. While it may not consume your money, it will consume more of your time and mental energy. It might even result in lost business (the costliest part of all). Is it worth that cost to work with a system that is more cumbersome for you and your customers?
I'm not saying you need to start shelling out money for this right now. If you're on a shoestring budget, it's okay to skip this and come back to it later. However, I do think your phone communication is something that needs to work seamlessly without causing you constant headaches and getting in the way of doing business.
If your phone system isn't easy to work with (and be honest about this), this is something that should be near the top of your priority list. If you need a better system than what you already have in place, do it sooner rather than later.
Need Help In Your Land Business?
When you're getting started in a new business venture like buying and selling vacant land, there are a lot of things to learn about how to find deals, research properties and get them sold quickly for a profit.
A mentoring relationship isn't always necessary for everyone to get started. Some people have everything it takes to figure it out on their own. It's not a question of whether they'll succeed… it's just a matter of how long it will take to get there.
This is where a good coach and mentor can be a game-changer because they can shave a significant amount of time off your learning curve, which can have an invaluable impact on your business and life - getting you to your financial goals much faster.
If you want to jump start your business and significantly shorten your learning curve, we can help with that!
For a limited time, we are accepting new coaching clients in our land education program. Submit your application here if you're interested!