What is an Accredited Investor?
An Accredited Investor is defined by Rule 501 of Section D of the Securities Act of 1933 as any natural person who had an individual income in excess of $200,000 in each of the two most recent years or joint income with that person's spouse in excess of $300,000 in each of those years and has a reasonable expectation of reaching the same income level in the current year; or any natural person whose individual net worth, or joint net worth with that person's spouse, exceeds $1,000,000.
REtipster provides real estate guidance — not tax or investment advice.
This article should not be interpreted as financial advice. Always seek the help of a licensed financial professional before taking action.
How is an Accredited Investor Defined?
The Securities and Exchange Commission (SEC) establishes the criteria to be designated as an accredited investor (also known as a qualified investor).
According to Rule 501 of Section D of the Securities Act of 1933, the SEC's definition of an accredited investor is:
A person with an annual income of at least $200,000 in each of the last two years (or exceeding $300,000 jointly with a spouse), with the expectation of earning the same or greater income in the current year and
An individual or joint net worth exceeding $1 million excluding the primary residence
The Dodd-Frank Act in 2010 eliminated the primary residence from the net worth calculations, but on the flip side, it also removed any mortgage on the primary residence, up to fair market value, from the calculations.
The provisions for being an accredited investor are different for partnerships, corporations, trusts, and charitable organizations, but each can become accredited investors under SEC rules.
The table below shows how the SEC calculates net worth for the purpose of becoming an accredited investor:
As you can see, Jane qualifies to be an accredited investor, despite having a lot of mortgage and unsecured debt.
John, on the other hand, doesn't qualify, despite having just $385,000 in debt compared to Jane's $900,000 in debt. Jane's home is actually underwater; it contributes nothing to her net worth. Nearly half of John's net worth is tied up in his home, disqualifying him for accredited investor status.
What's so special about an Accredited Investor?
Accredited investors have opportunities to put money in lucrative investments that aren't available to the general public. Private equity, hedge funds, real estate crowdfunding and debt syndication are just a few avenues open to an accredited investor.
It's not just the accredited investor who benefits from this exalted status; it benefits entities that need to raise capital, too. The SEC requires organizations to register any securities they plan to sell to the public. It's an expensive and time-consuming process for businesses. But if they sell only to accredited investors, they can skip the registration process.
You don't have to be an accredited investor to invest in real estate; there are private REITs open to non-accredited investors as well. However, if you don't have the time or know-how to fix and flip properties, you can get into some of the more profitable real estate opportunities by becoming an accredited investor.
Bonus: Get a FREE copy of the INVESTOR HACKS ebook when you subscribe!
Free Subscriber Toolbox
Want to learn about the tools I've used to make over $40,000 per deal? Get immediate access to videos, guides, downloads, and more resources for real estate investing domination. Sign up below for free and get access forever.
How to become an Accredited Investor
Even though the SEC sets the guidelines for becoming an accredited investor, it doesn't actually handle the qualification process. In fact, there is no "official" process or universal certification you can use with every fund or organization.
That said, individuals can't simply check a box or self-certify that they are accredited investors. This was allowed until 2013, but the SEC changed the rules so that any organization seeking funds from accredited investors had to implement a process to verify potential investors meet the accreditation standards.
In order to participate in real estate or other investments open only to accredited investors, an investor will need to contact the organization and ask them what they need to see. The accreditation process varies, but will likely include some or all of the following:
Complete a financial questionnaire
Submit bank and financial statements
Submit tax returns and/or W-2 forms
Review of your (and your spouse's, if joint) credit report
Provide letters from your CPA, attorney, broker, and/or financial advisor
You'll have to repeat this process for each organization, but once an investor is accredited with a fund, they can participate in any available opportunities within that particular organization.
What if an investor doesn't qualify as an Accredited Investor?
Getting accredited isn't a one-time-only deal. If a person's net worth or income isn't what it needs to be this year, they can try again and again in the subsequent years. If their assets increase in value so that their net worth hits the required $1 million mark later in the year, they can reapply for accreditation.
An investor isn't locked out of real estate investment opportunities if they aren't accredited. While there are many private crowdfunding opportunities and REITs, there are several that are open to anyone who wants to invest.
We're into real estate investing. We're also into keeping it real.
Our goal is to feature products and services we think you'll find useful. Some of the links in this article may help to financially support this website, but the real-world guidance is all REtipster.
For example:
Fundrise offers eREITs and e-funds in commercial real estate. Investors can get in for as little as $500.
Realty Mogul opened up its MogulREIT I and MogulREIT II funds to general investors; they also have private funds for accredited investors.
Rich Uncles is aimed at Gen Y and Gen Z and operates a REIT that collects rent and pays it out to shareholders in the form of monthly dividends. It is open to all investors.
Accredited investors have access to private investment opportunities average investors don't, but that doesn't guarantee market-beating performance. Whether you qualify as an accredited investor or not, you can still find real estate investment opportunities to meet your wealth-building goals.
The Best Real Estate Investing Strategy I've Found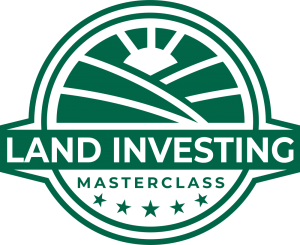 The most powerful strategy I've used to build my real estate investing career is NOT what you might guess.
Land investing (that's right, buying and selling vacant land) is a massive opportunity that most investors aren't paying attention to. For the few land investors who know how to pursue this business with the right acquisition strategy, it's an extremely lucrative and low-risk way to build serious wealth from real estate.
If you want to get the inside scoop on how to start and run your own land investing business, come and check out the Land Investing Masterclass – where I've put together a full 12-module course with dozens of videos, bonuses, downloads, group coaching sessions and a members-only forum (where we spend time answering questions every week). There is no better place to learn this business from the inside out!