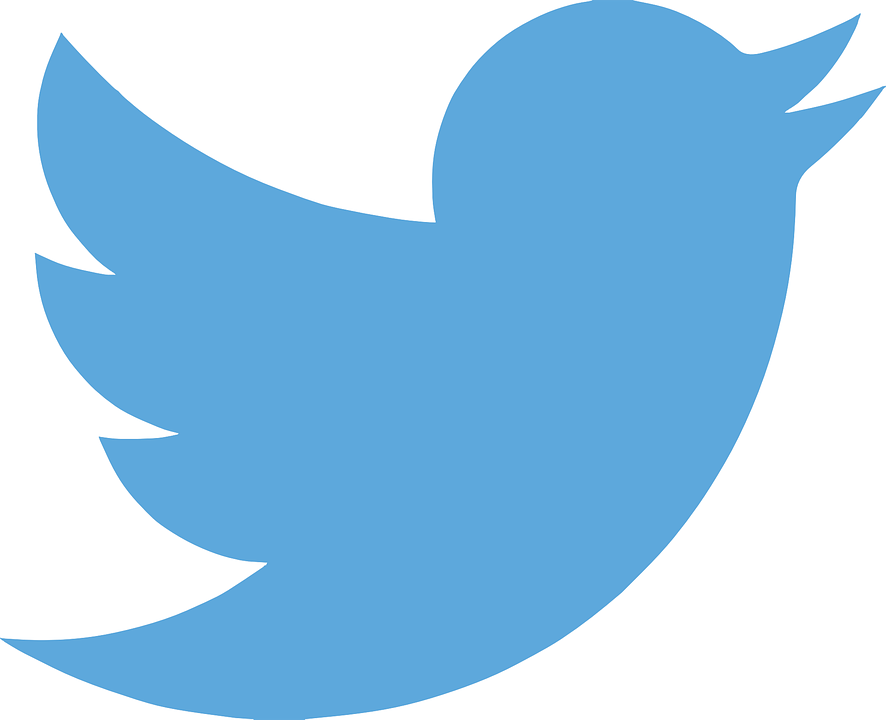 With over 300 million users, it's not difficult to see why Twitter is the number one social platform for business.
Its dynamic and easy-to-use layouts allow companies to increase their client base and market their company for free. Once a loyal following has been established, a company can use this platform to create more revenue and obtain new clients.
The importance of building a strong social media presence is becoming clearer in the world of real estate. Though sometimes for many real estate companies, using Twitter effectively can be a bit of a struggle. These twitter tips will put you on the path to a successful page.
Grow a Follower Base – Tweeting
The way your tweets are composed can have a major impact on the amount of followers you have. Having unclear and cluttered tweets will discourage people from going onto your Twitter page; resulting in you losing potential clients. Tweeting original content will be more appealing than constantly regurgitating recycled information; and don't be afraid to add some humor into your tweets. Find a good balance of being entertaining and informative! For example, here are some relevant real estate topics to tweet about:
Unusual properties
Featured property of the week
Local house prices.
Home improvement hints & tips (especially videos)
A good method to follow when trying to interest your followers is the 80/20 rule: only 20% of your content should be self promotion whereas 80% should be other interesting contact for your users.
Colonial Capital, a housing investment company based in Chicago, often shares other stories about their local area. This keeps their Twitter page neutral and helpful for their local users.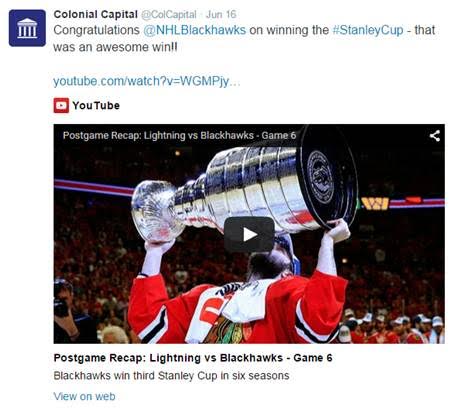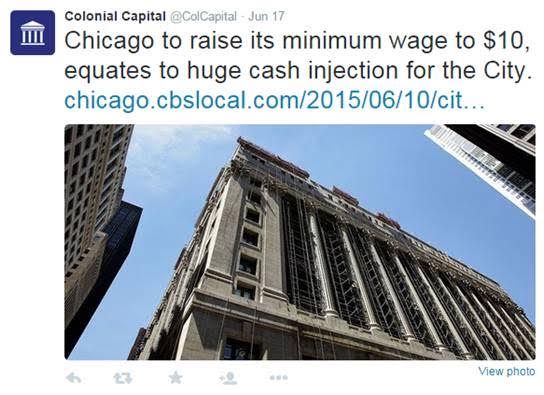 Make Pictures Work For You
Posting tweets that include images is essential for real state companies. Pictures are more engaging that just plain text, and they encourage the user to visit the site more regularly. Recent studies show that posts with pictures are 94% more likely to be retweeted – and bright-colored pictures work particularly well!
BuzzBuzzHome, a real estate company specifically looking at new builds, injects excitement into their page with lots of beautiful images of unusual homes or blog stories.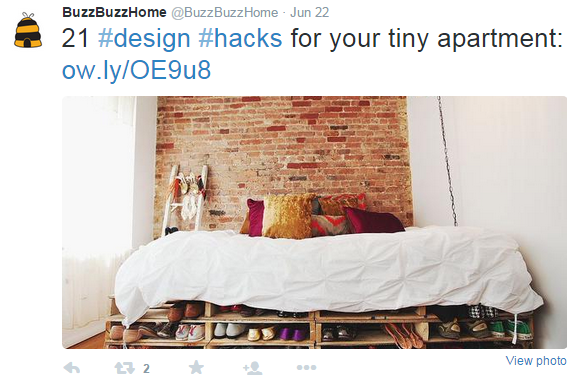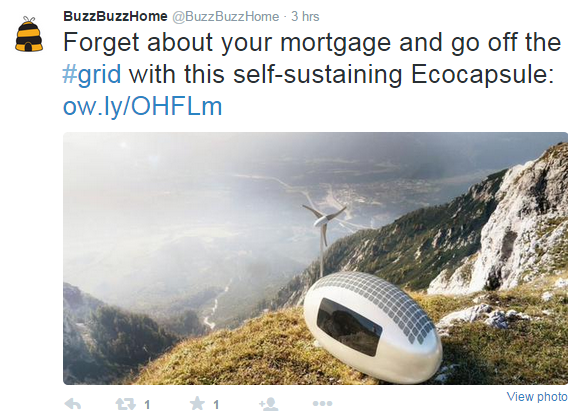 Social Time
Getting involved with users on Twitter is one of the most important things that lead to success on social media. Start by building relationships with active members that show an interest in your page (retweets or favorites): don't just spend the days talking to yourself – that's boring for everyone!
Remember to update your feed regularly with interesting stories. Research news events or viral crazes that get people talking and try to incorporate them into your tweets. Using hashtags and keywords will help drive traffic to your website and promote social engagement on your tweets.
Profile
This is essentially the "shop window" of your business. If people don't like what they see when they click onto the page, they will leave without having read a word. Here are a few tips to improve your profile:
Have a colorful and compelling background image. It needs to persuade the user to read on.
Have a relevant profile image (in many cases, this will most likely be your company's logo).
Make your bio informative and enjoyable. Sell your company and include a link to your website and a location as well.
Never forget about your username. Having a professional real estate company with the name '@AwEsOMEHOOme$' will not be taken seriously. When searching, many users will see this and be put off from visiting your page.
MSN Real Estate, a major real estate company, is able to make the tone of their Twitter page very personable and relaxed. This is mainly done with background image and as you can see, it has a huge effect!

Start Local, Then Expand
When starting off on Twitter, it is important to remember that it takes a lot of work to get a large, active following. In the beginning, targeting smaller companies that are local to you helps promote your brand and get your name out there. This is particularly useful in the world of real estate, looking at other local companies twitter pages will give you a better idea of the area you are operating in.
Creating a good line of communication with other companies can also help you to market your brand if they mention your business in tweets and links. As with most things, building a solid following on Twitter isn't a race, but a marathon. If you keep at it and stick to the principles that work, you'll find that in time, you'll have an audience you can be proud of.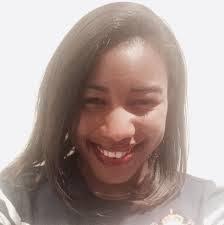 Sharyse Barnes is a social media expert from London who writes on behalf of Colonial Capital PLC.
Image: Pixabay