We're into real estate investing. We're also into keeping it real.
That's why we wanted you to know that some of the links in this post are connected to our sponsors — but the real-world guidance is all REtipster.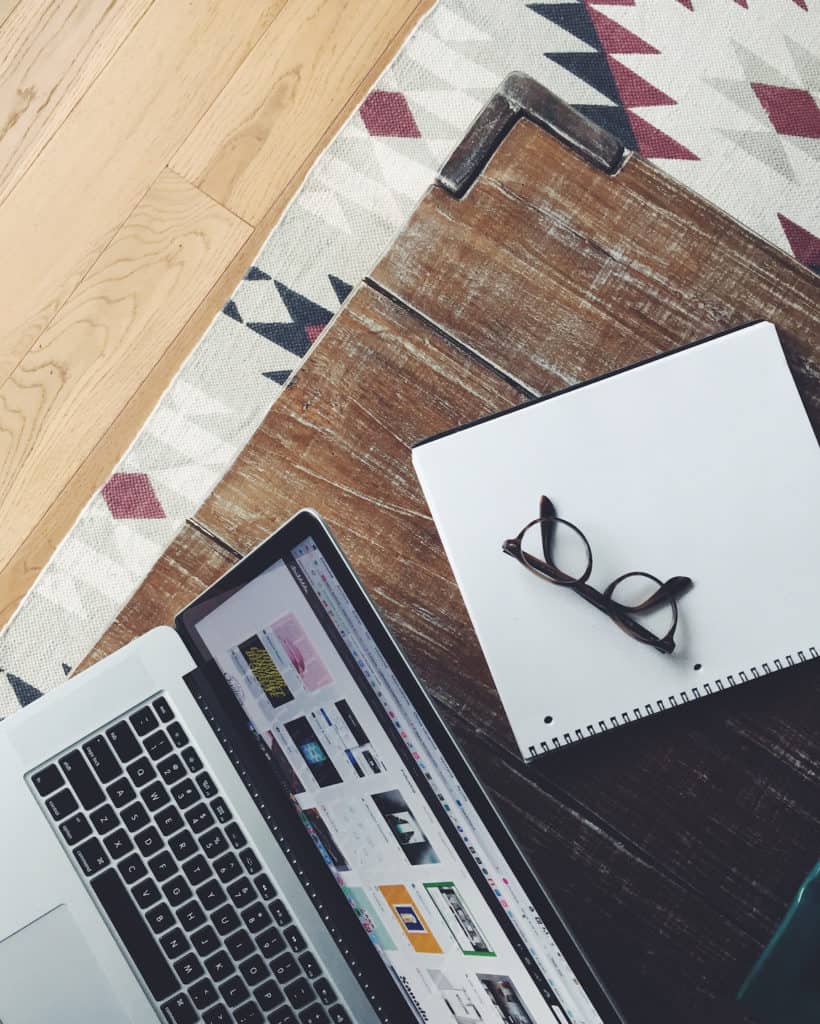 When you're building a real estate website with WordPress – one of the most important and helpful things you can invest in is a well-designed and easy-to-use WordPress theme.
Luckily, there are A LOT of great WordPress themes available for those of us in the real estate industry. Whether you're an investor, realtor, broker, property manager, landlord or fill-in-the-blank… chances are there's a solid WordPress theme somewhere out there that can be tailored to suit your specific purpose.
The problem is – most real estate professionals aren't professional web designers. We don't necessarily know what to look for in a great theme, and even if we did – most of us have no idea where to find all the best options on the market today.
With this in mind, I've taken some time to identify what I believe are ten of the highest-rated, widely used and most flexible real estate WordPress themes available today. These themes were selected based on five key criteria…
1. High Ratings & Reviews
I've used a few of these themes in the past, but not all of them. Since there's no way I could ever get enough hands-on experience with all of these options, I'm placing a heavy emphasis on the number of high ratings the each of these themes has received. Essentially, a theme won't make it on this list without a rating of at least a 4 out of 5 stars.
2. Ongoing Updates
Not all WordPress themes are created and supported by well-respected developers who continually release updates to keep their themes fully compatible with the latest version of WordPress. While this kind of ongoing attention-to-detail is never guaranteed, the themes below are coming from marketplaces and developers that are generally known for this kind of continual updating of their products.
3. Detailed Documentation and Ease of Use
If you're not overly familiar with the inner-workings of WordPress, it can be a real challenge to figure out how to work with certain themes and get them to display exactly the way you want them to. Unfortunately, most WordPress themes (even the paid ones) don't come with one-on-one support to get your site in final working order. However, many of the paid themes will come with detailed instructions on how to work with the features available… so to the extent possible, many of the themes on this list come with clear instructions on how to get started.
4. SEO Friendly
Your choice of WordPress theme can have a major impact on the "SEO friendliness" of your website. The built-in search engine optimization features that come with a WordPress theme can definitely play an important role in your website's ability to be tracked and monitored by search engines. With this in mind, these themes all come with some element of on-site SEO features that can be used to improve your websites search-ability.
5. Supported Plugins
Part of what makes WordPress such a great website platform is the fact that it can be integrated with plugins. A plugin is a piece of software that can be used to extend the functionality or add helpful new features to your WordPress site. Not all themes will support every plugin. This is why it's important to choose a theme that can work with the plugins that will boost your website's performance to the level that adequately serves your prospects and customers.
RELATED: 10 Powerful WordPress Plugins to Kick Your Real Estate Website Into High Gear
So with that said – here's a video overview of my top picks…
And for a more detailed, written overview – you can see the full list below (in no particular order).

Note: Some of the links below are affiliate links and at no additional cost to you, I will earn a commission if you purchase. I recommend these themes because I think they will do a great job of making your website look great, not because of the small commissions I will make if you decide to buy something. Please do not spend your money unless you feel it will help you achieve your goals.
AgentPress Pro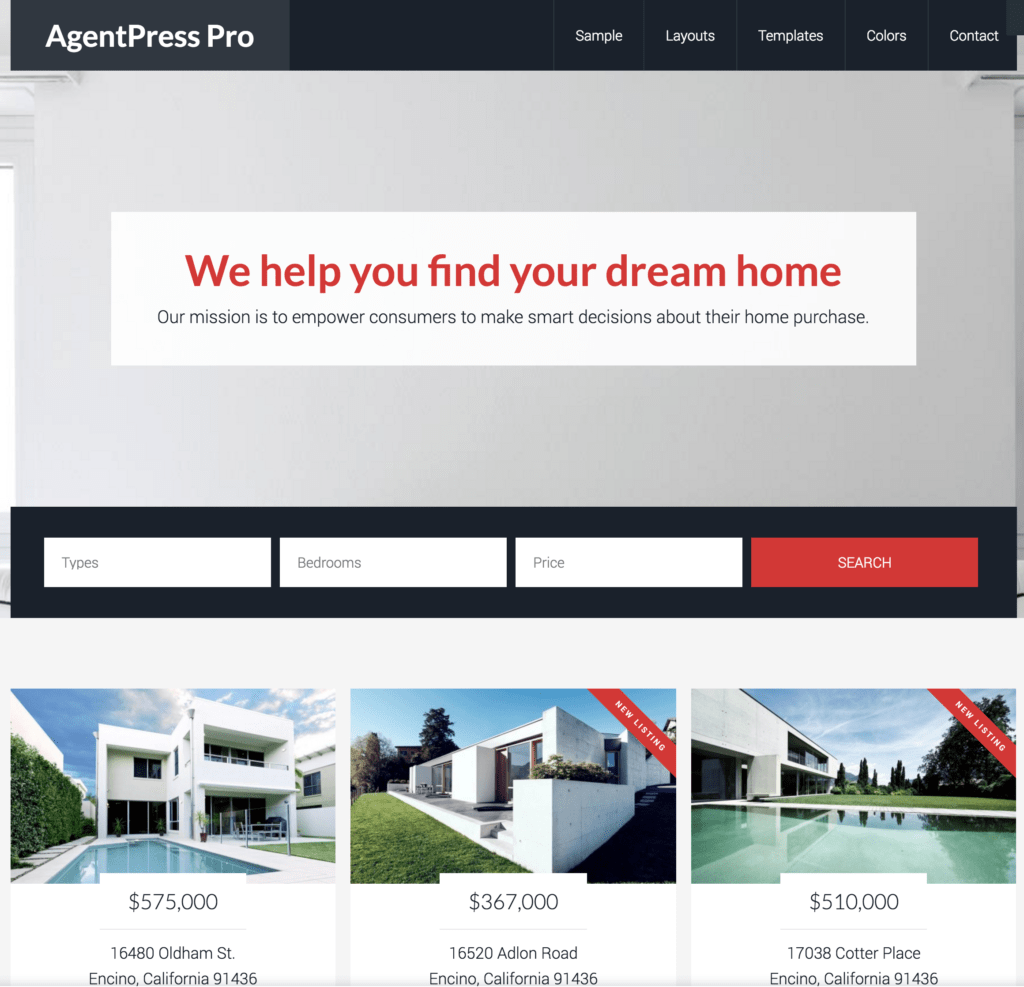 AgentPress Pro is one of my personal favorites. I first discovered this gem back in 2010 and as time has gone by, the team at StudioPress has continued to make improvements by adding a mobile responsive design, background image options, an easy "widgetized" layout and a lot more. I still use this theme on my buying website to this day and I've never been disappointed with it.
View More Info
Live Demo
Agent Focused Pro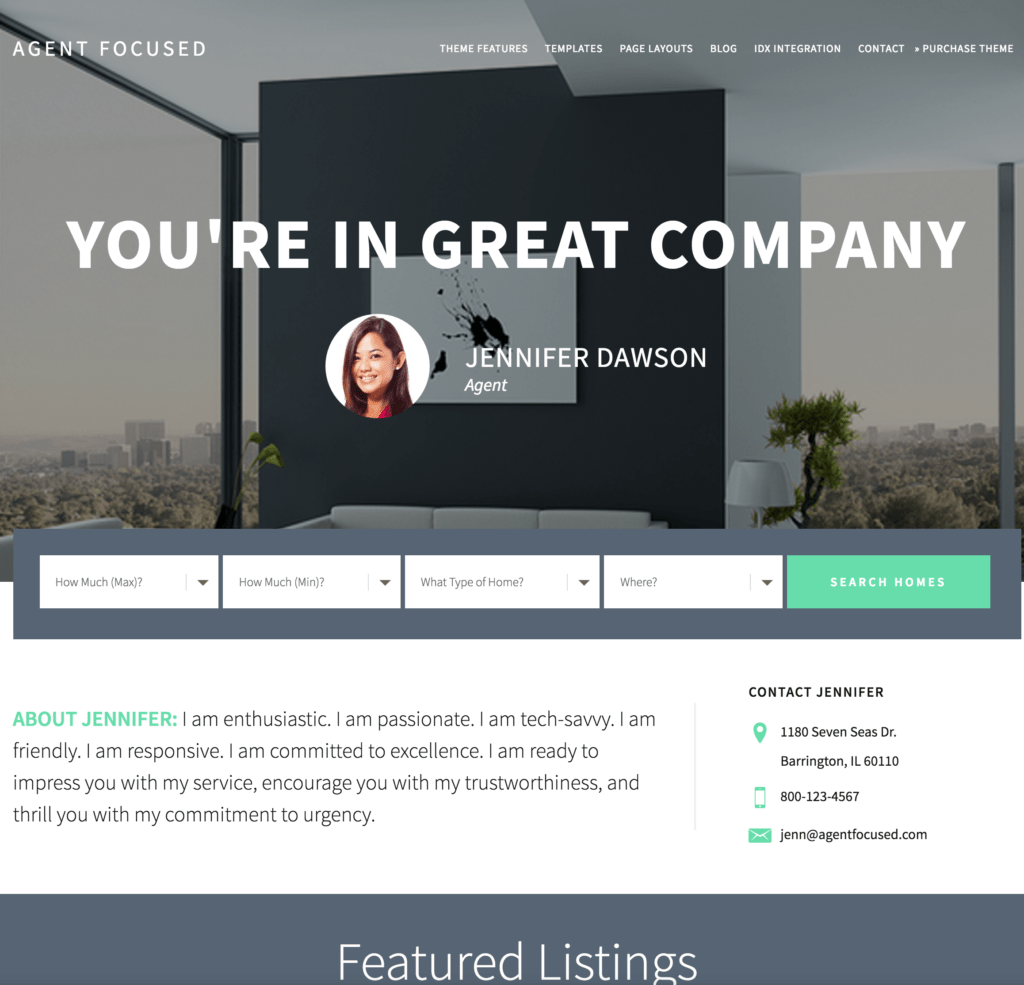 Agent Focused Pro is another solid option from the team at StudioPress, and this one is a fairly recent addition to their growing library. It bears some similarities to the AgentPress Pro theme (both are built on the Genesis framework), but has more of a modern, sleek appeal that may be a more ideal fit for luxury properties and/or communities. If you're selling higher-end properties with plenty of high-resolution images at your disposal – this could be the one for you.
View More Info
Live Demo
HomePro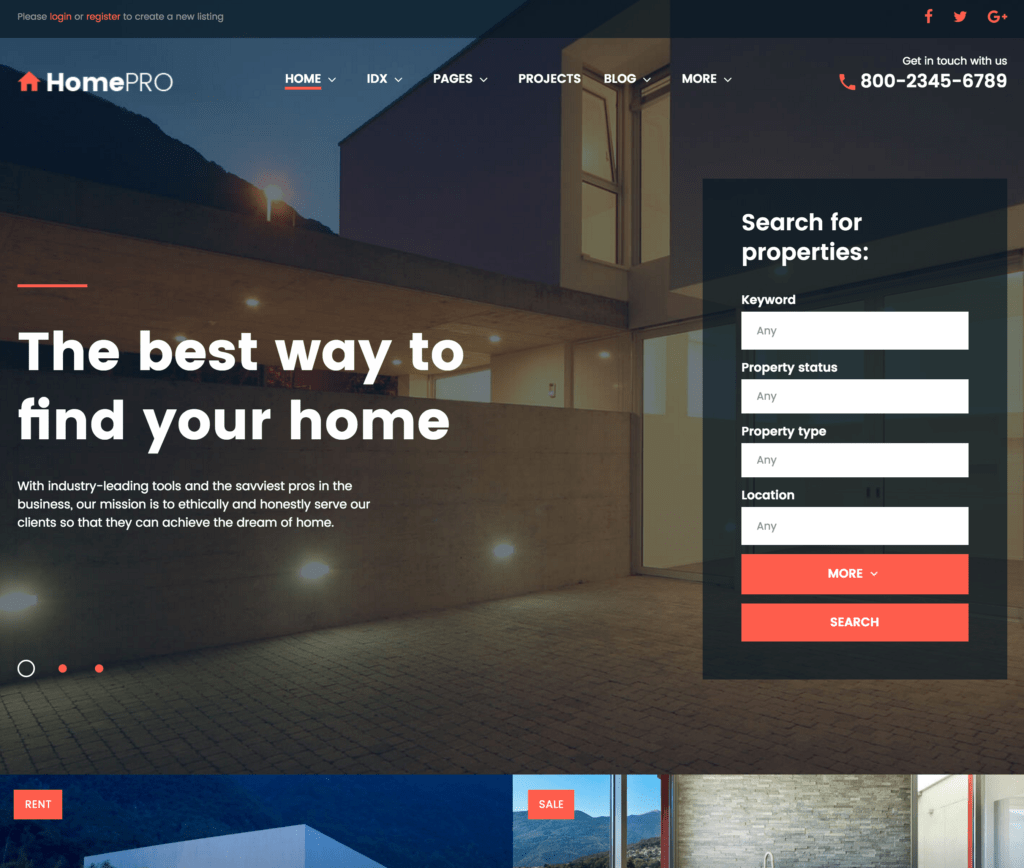 HomePro is a very capable and well-designed WordPress theme – ideal for real estate agents and/or real estate agencies with multiple properties on the market. It has a mobile responsive design that shows big, beautiful images and the unique features of each property.
Like several of the other WordPress themes on this list, this one comes with full listings management and IDX support (so you can embed live MLS data directly into your website). This theme will also allow you to build custom page templates, single listing templates, custom real estate related widgets, and much more.
View More Info
Live Demo
Hometown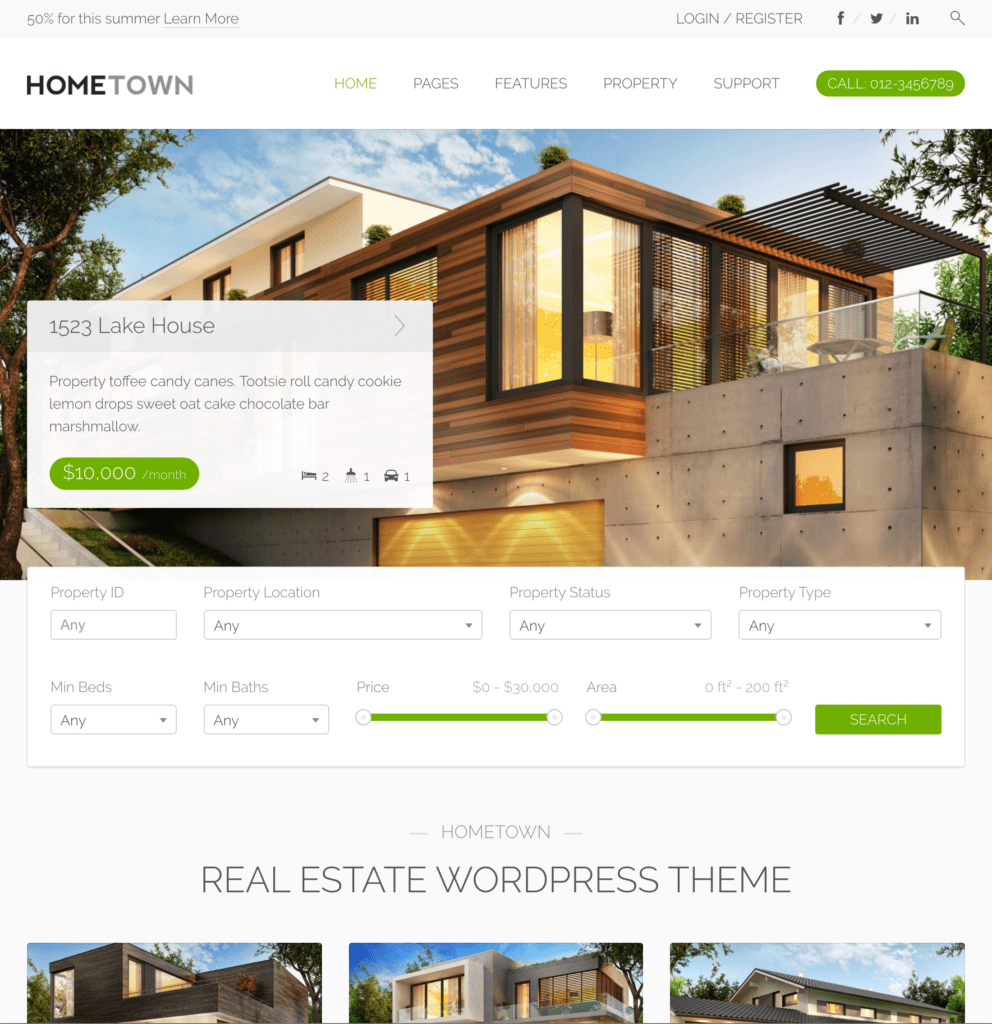 Hometown has elegant & clean design and comes with lots of features (e.g. – property search, property slider, property map with stylish markers, front end-user login & register, front end property submit & edit, payment integration with PayPal, etc).
One unique aspect of this theme is that you can allow visitors can sign up and add their own listings to your website. This makes the theme ideal for creating a collaborative property portal. As the website owner, this theme allows you to charge your audience for using this feature, or offer it to them free of charge. This theme won't necessarily be the right fit for everyone, but for those who are promoting multiple properties and/or getting other outside users involved, it could potentially have A LOT to offer.
View More Info
Live Demo
WP Residence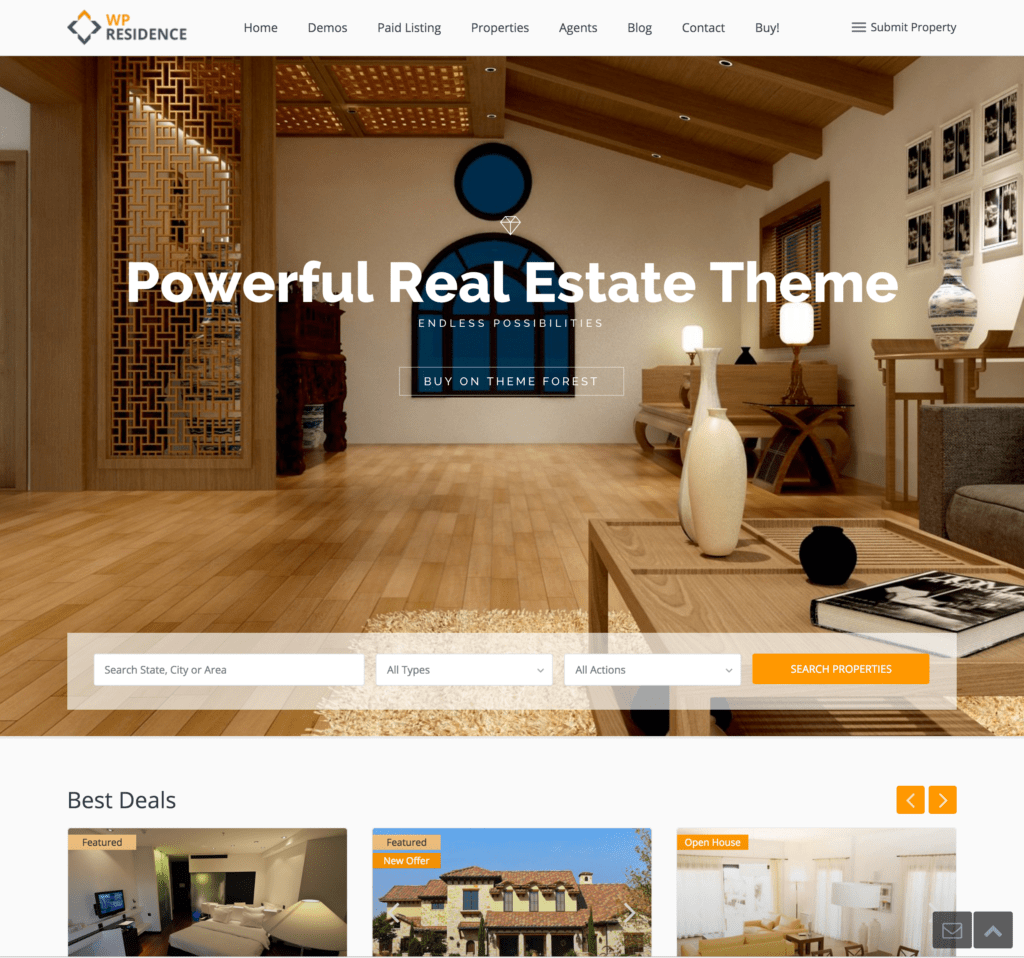 WP Residence is a premium theme designed for independent agents and agencies, but you can also use it to allow users to submit their properties for free, for a fee or based on a subscription.
The theme has the flexibility to provide a great user experience, with over 350 neatly organized theme options included to help you create a unique and modern real estate website (and it also comes with 11 pre-made demos to get you started right away).
View More Info
Live Demo
DreamVilla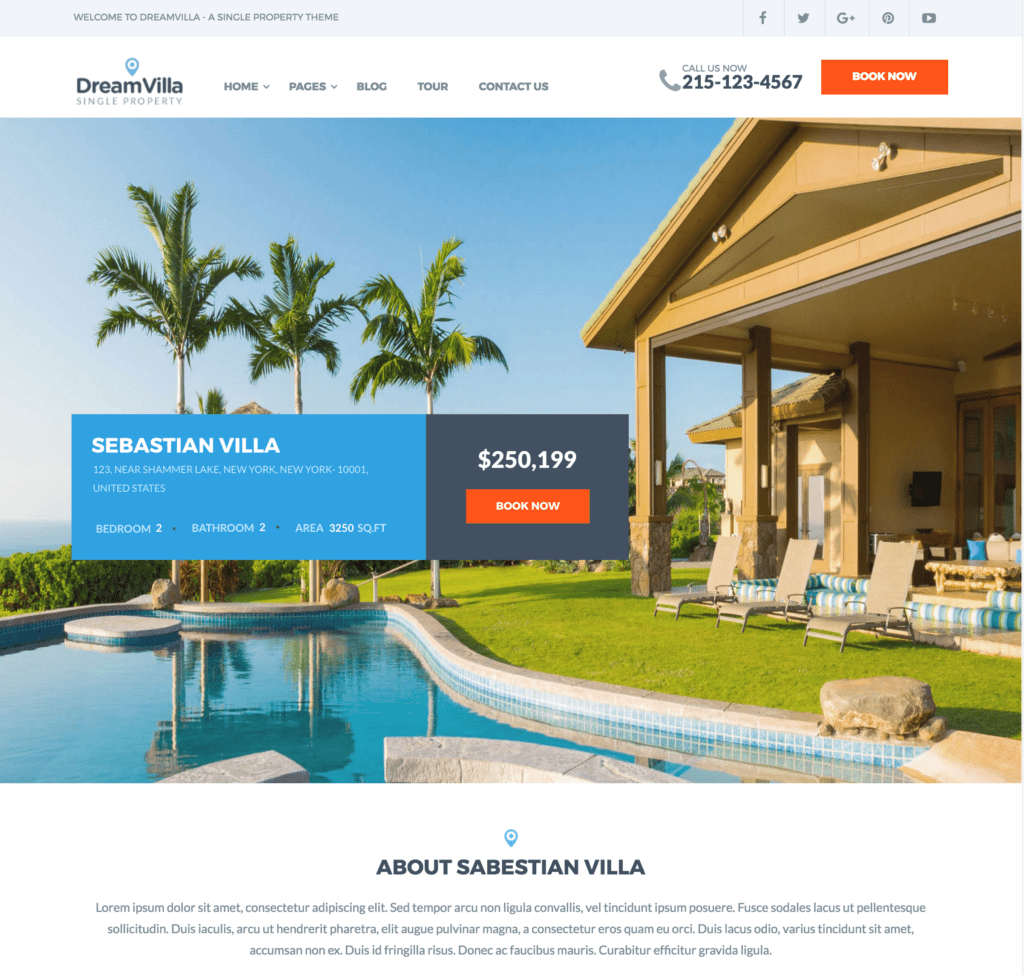 DreamVilla is a gorgeous WordPress theme that is designed to promote a single property. You can set it up as a full-blown website (with multiple pages and a navigation bar – to showcase videos, floor plans, agent contact information and more), or you can design the entire site as a single page – which keeps the information clean, simple, and easy to understand. If you've got a vacation rental property or a single family house that will need to be advertised on an ongoing basis, this could be a solid option for you.
View More Info
Live Demo
Solus
Solus is another awesome single-property WordPress theme that can be used to give a specific listing the kind of attention it deserves. This is a relatively easy-to-use and fully featured WordPress theme with an excellent rating and tons of positive reviews. When purchasing this theme, you will receive a detailed help file along with additional features like Unlimited Color Schemes and Demo Content.
View More Info
Live Demo
Real Places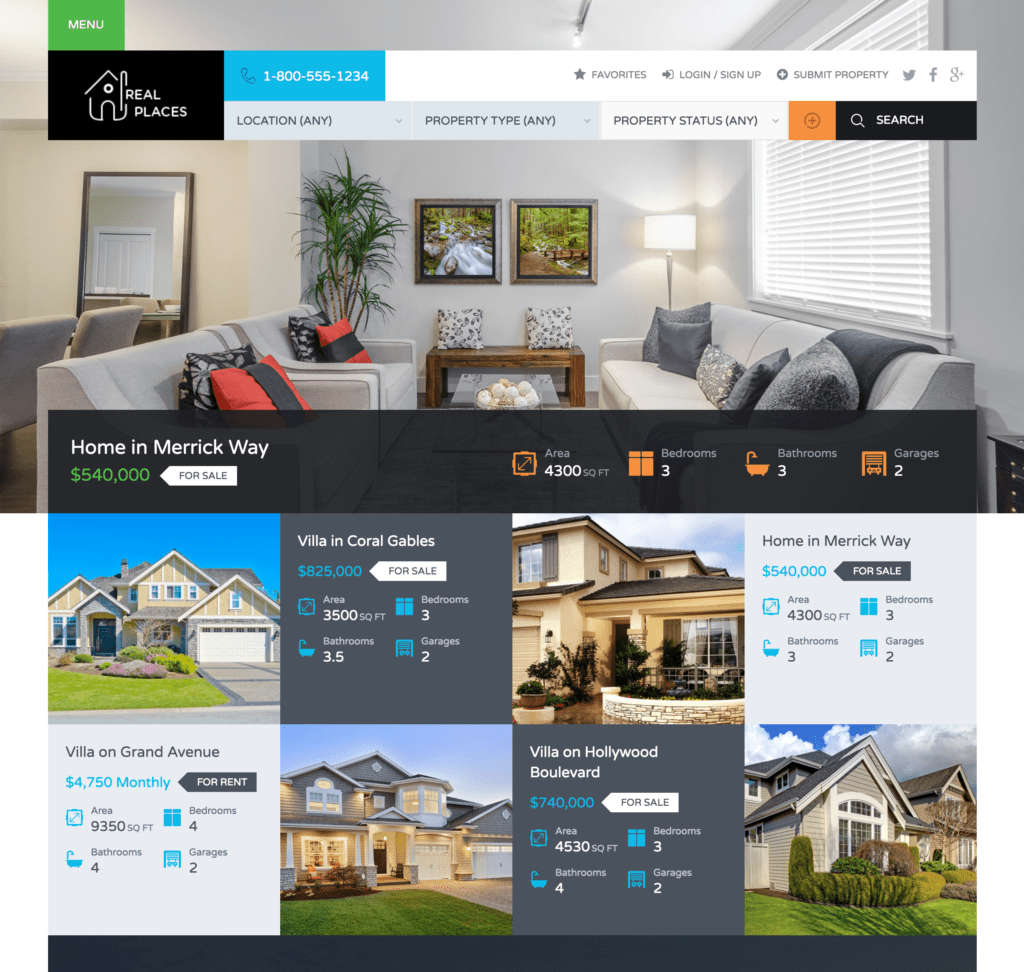 Real Places is a newer WordPress theme that comes with three different layouts to choose from. Whichever option you choose, this theme will allow you to showcase your listings with high quality images and some great design elements.
In addition to the great imagery this theme allows you to take advantage of, it also allows each listing to hold a video and display an integrated Google Map of each property location, along with details of the surrounding area. Be sure to check out the demo below, it's pretty cool!
View More Info
Live Demo
Bellaina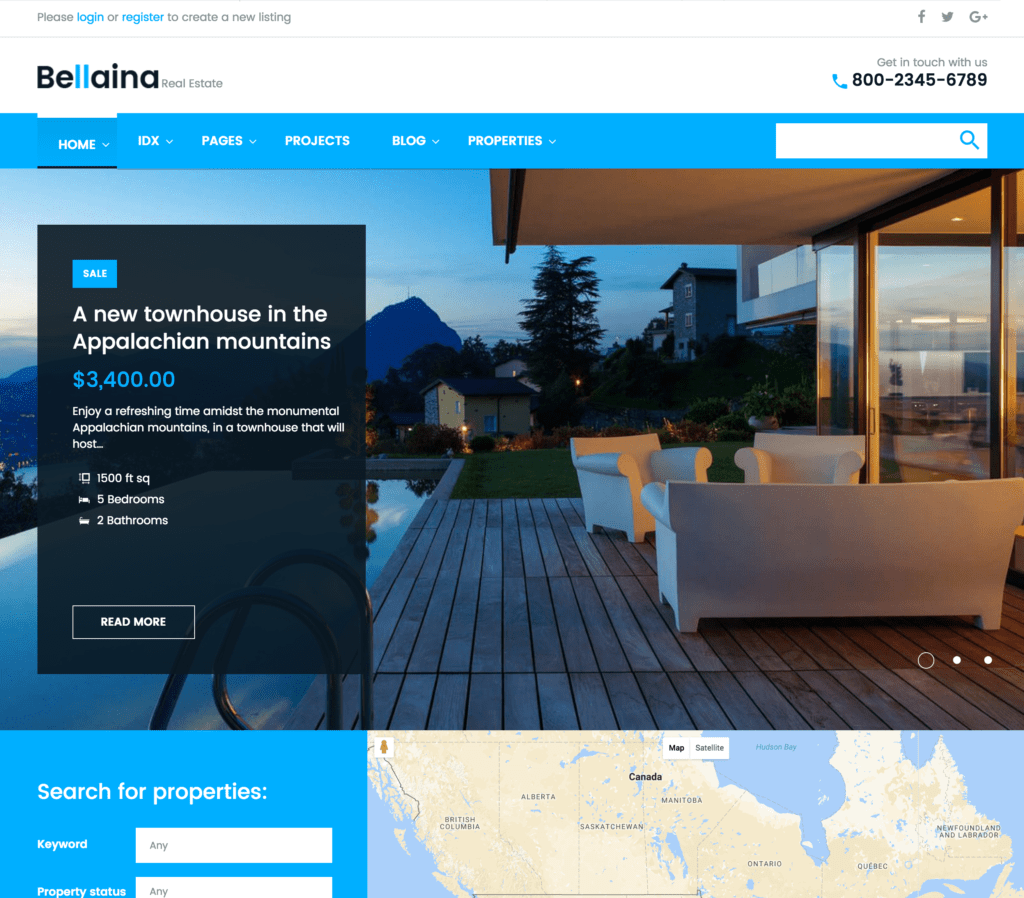 Bellaina is a gorgeous, highly functional and fully responsive WordPress theme. This option was built with realtors in mind, but could also be tweaked for the purpose of many real estate investors (depending on the business model and typical clientele).
This theme offers some very flexible and comprehensive search functionality and can be used to build some beautiful and informative real estate listings (while also integrating with the MLS using the built-in IDX functionality). If you want your listings to look better than the competition and sell quickly, this could be the best option for you.
View More Info
Live Demo
Landmark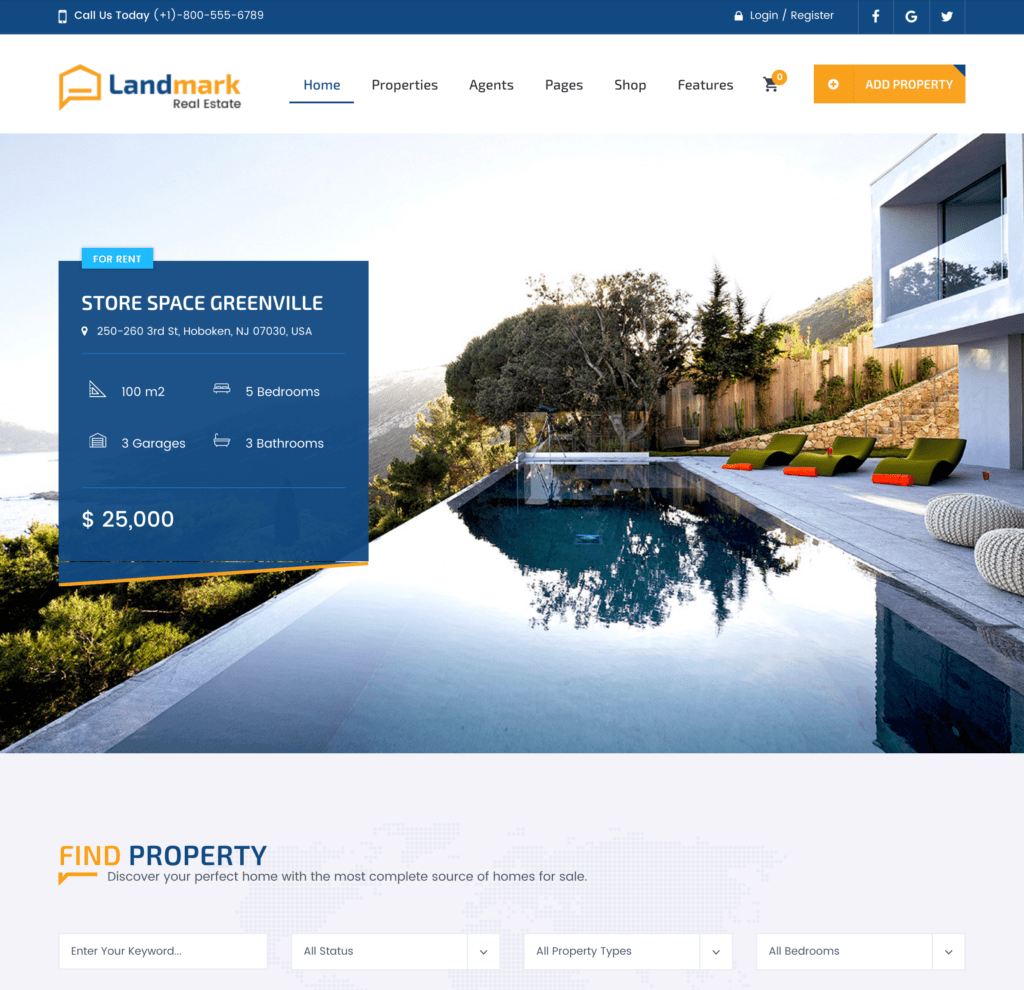 Landmark is a fully mobile responsive and retina-ready real estate theme that comes loaded with tons of features. This is another theme that allows users to log in and submit their own property listings – making it ideal for a real estate agency or investor community with multiple users.
View More Info
Live Demo
Do you know of any great real estate WordPress themes we missed in the list above? Be sure to let us know about them in the comments below!
Free Webinar With Seth and Jaren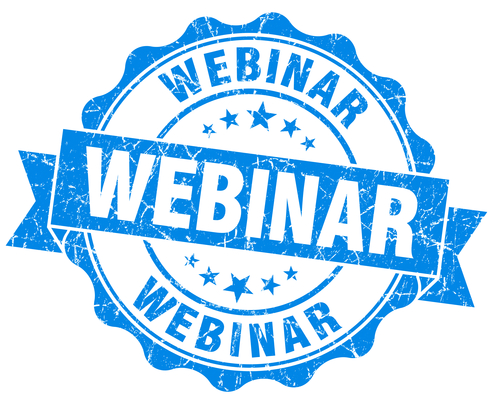 You are invited to an exclusive webinar with Seth Williams and Jaren Barnes on Wednesday, October 24 at 8:00pm EDT (5:00 PDT).
Jaren will be hosting a live presentation addressing some of the most critical elements involved with finding deals and motivated sellers in the land business.
In this live webinar, you'll get the scoop on how to choose the right market, how motivated sellers think, where to find them and what to say ( including some of the best tips, tricks, stories and lessons you'll need to know as you start pursuing cheap land deals on your own). You won't want to miss it!
Space is limited, so register now to hold your spot!