Learn honest strategies and proven tactics for real estate investors.
Join over 10,000 people who are already on a quest to make a KILLING with real estate.
Sign up now and learn how to…
Find thousands of motivated sellers.

Buy properties for pennies on the dollar.

Get properties sold in half the time.

Discover better real estate strategies with virtually no competition.

Develop your own, unique approach and unleash your potential.
Plus, you'll get fresh ideas on how to save time, be more productive, skyrocket your income and live life on your terms. Just enter your email address below and click "Get Updates!"
Don't see a signup form? Send me a message here and I'll add you to the list right away.
What Readers Are Saying…
I get emails pretty regularly from people who have used my blog to make money on their own (many of them without paying me a cent) and most of the testimonials below are from people who have reached out directly to me over the years or have simply posted their experiences in public forms (with absolutely no prompting from me).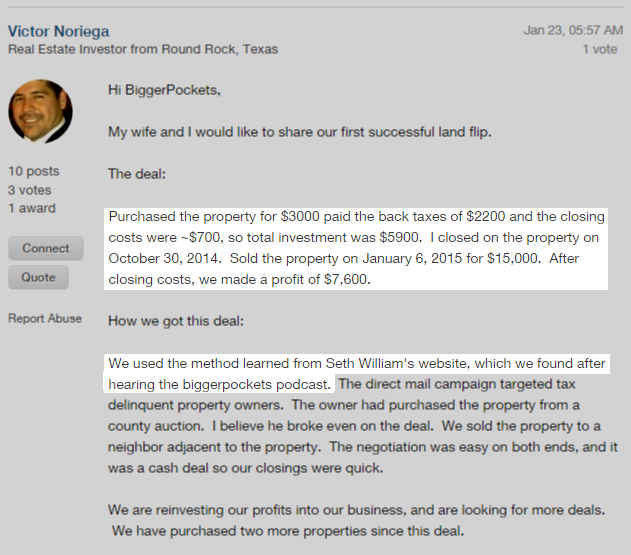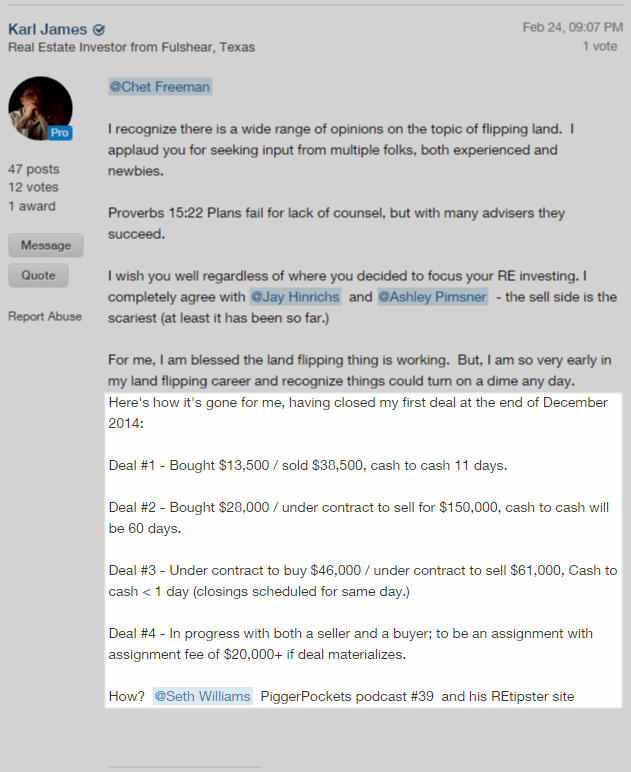 Also, here's a recorded conversation I had with Karl about his experience – pretty interesting stuff…

Seth and REtipster.com have been my main inspiration and guidance for getting into land investing. I've been astonished at the amount of free content he gives out in a niche where others are quick to charge you for advice.

After following the blog for a year, I took the plunge and followed his guidance. Within a couple months, I had bought and sold a 4 acre property (from the comfort of my own home) for a 500% profit. THIS IS ADDICTING. I've seen the training course Seth had put together and I know it will change people's lives like it has changed mine. The no hype, no BS approach to teaching all the nitty-gritty of land flipping makes learning this business enjoyable and fairly easy.

I would definitely recommend this to anyone trying to add extra income and financial security to their life. My only regret is that I didn't take action sooner! ~ Harry Asnien
I had tried flipping houses and had done okay. When I first heard Seth interviewed on the Biggerpockets podcast I was excited because land flipping eliminated the 2 biggest headaches I was experiencing; financing and rehabbing.

Seth has unquestionably been the biggest and best source of information and leadership in building a part-time business that has yielded fantastic financial returns. I made a decision to follow Seth's methods pretty closely and not try to reinvent the wheel. I think it was a smart move. My first mailing I bought two parcels from one seller for $9,000. Within 6 months I had sold them for $24,000 total. About 9 months in I bought a parcel for just under $2,400 and sold it for $14,950 within 60 days. ~ Dave Fritch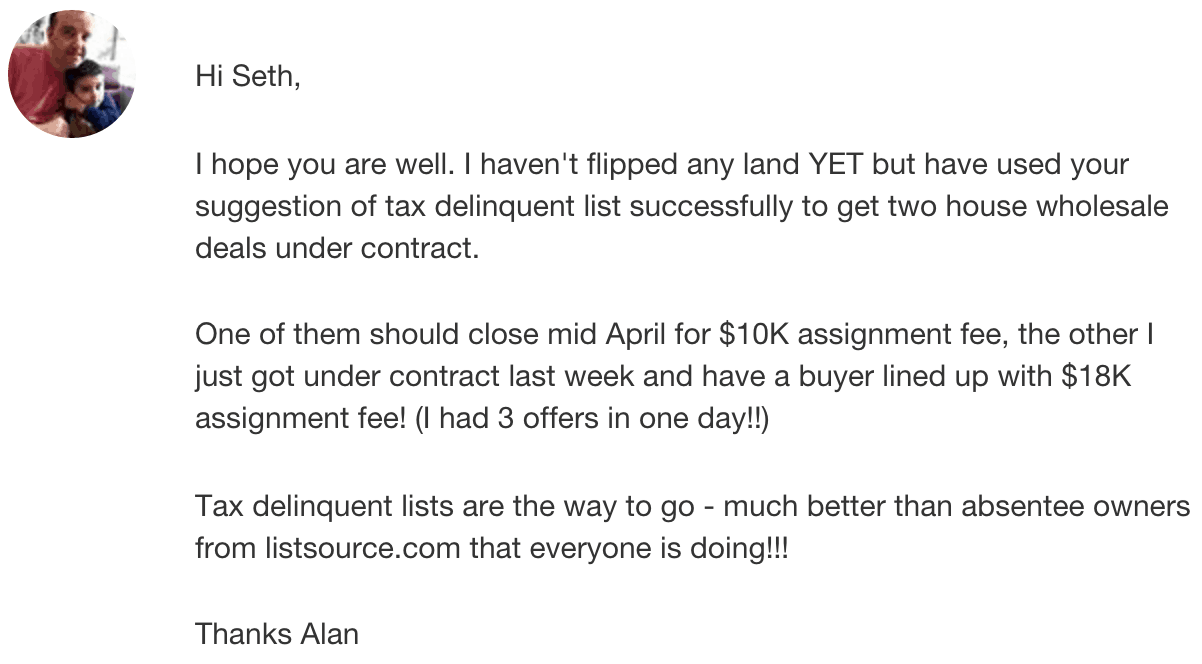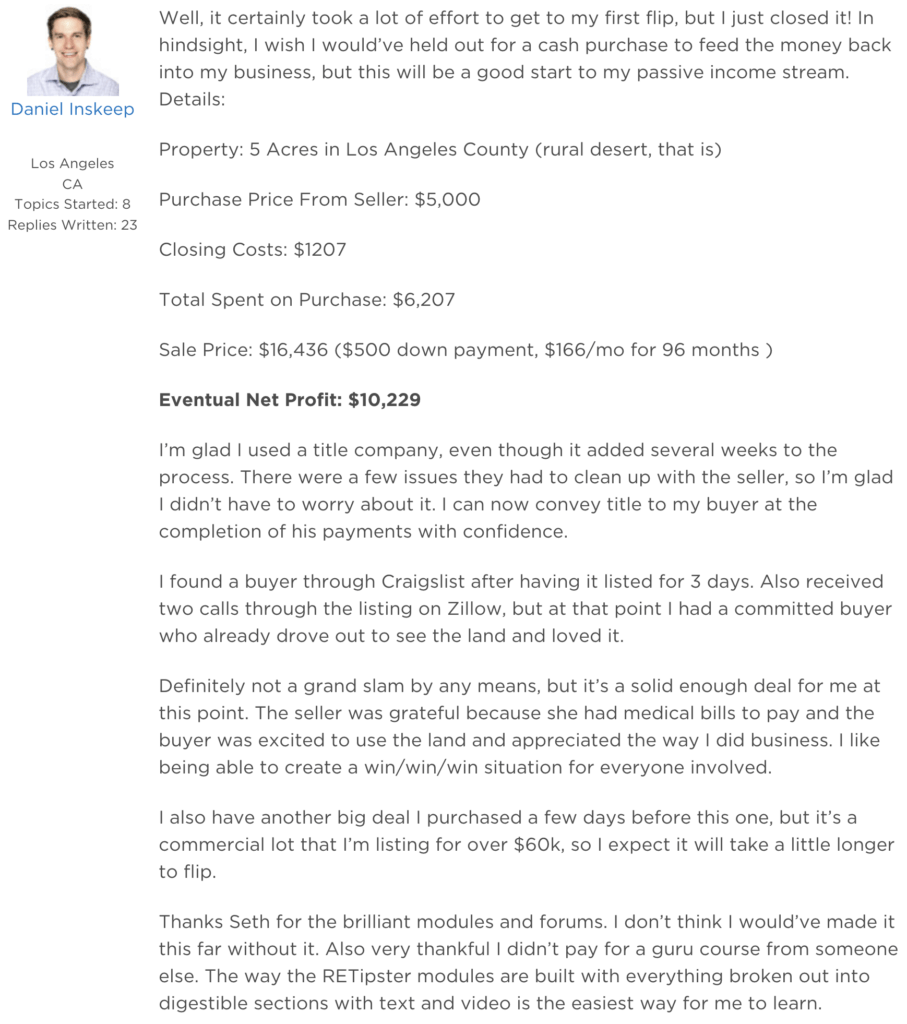 Like what they have to say? Join the party! Sign up for the free newsletter above.