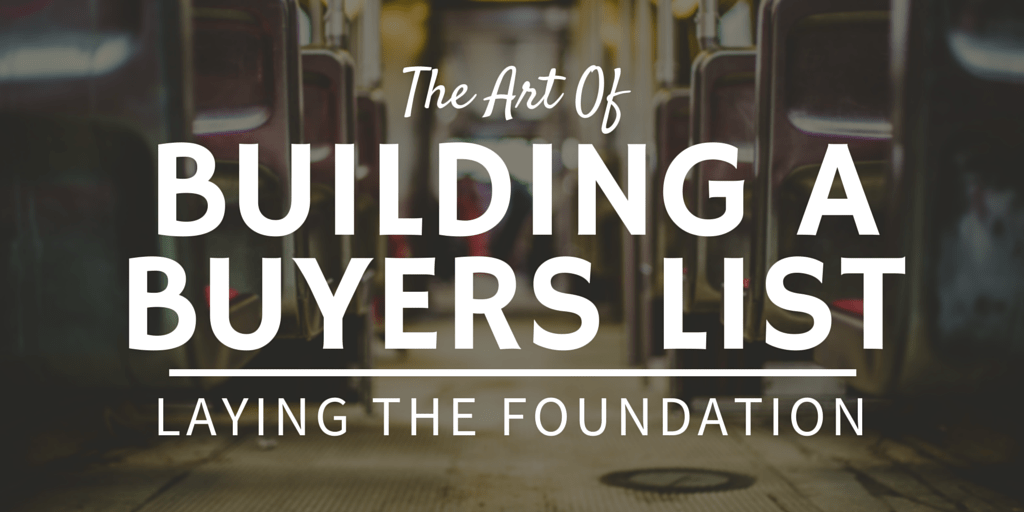 It doesn't take a rocket scientist to figure out that in order to make money as a real estate investor, you need two very important things:
The ability to buy properties at a very low price.
The ability to sell those properties quickly, and at a significant mark up.
It sounds simple enough, right? So why isn't everyone a real estate millionaire??
Have you ever wondered how the most successful real estate investors are able to build huge businesses and make such a killing all the time? How are they able to pull this off? In my interactions with some of the "big shot" real estate investors of the world (names you'd probably recognize), I've noticed a common attribute among all of them.
The best real estate investors are masters at selling.
Whether it's through their slick verbal skills or their vast business network, these people have learned how to sell their properties in a matter of days (if not hours) and they can do it without even creating a public listing.
How Is This Possible?
In many cases, the only reason this happens is because these entrepreneurs had the foresight to create a BUYERS LIST for their business. In this series of (4) blog posts, we're going to dig into the details on how YOU can build a buyers list just like this for your real estate business.
Specifically, this is what we're going to cover:
In this post (the one you're currently reading), we'll talk about how to get your list infrastructure set up and organized correctly. Once you've finished this step, your list will be fully created and ready to handle rapid and massive growth.

Next up, we'll get into all the specifics about how you can promote the heck out of your buyers list. I'll give you a whopping 50 proven list building strategies you can use to add new contacts to your growing network of cash buyers and build your audience as quickly as possible.

In this post, I'll give you some helpful ideas and specific examples of messages you can use on your postcards or letters if/when you choose to harness the power of direct mail to grow your buyers list. If you aren't sure what to say or how to write an effective message to your prospective cash buyers, you'll definitely want to check this one out.

Once you've mastered the art of building your buyers list, I'm going to give you some pointers on how you can stay in contact with your buyers, communicate effectively with your audience and present them with relevant opportunities that will significantly increase the chances of selling your properties at warp speed.
What is a Buyers List?
So let's start from square one.
A "Buyers List" is simply a list of real estate investors that are actively looking for new investment opportunities in a given area. It usually consists of nothing more than their names, email addresses and maybe even their phone numbers. This list is continuously evolving and it's filled with people who want to buy what you're trying to sell.
In this series of blog posts, we're going to hammer out the details on how you can start building a buyers list, and how you can get your properties SOLD faster than you ever thought possible.
The Importance of a Buyers List
As a real estate investor, selling properties is something you'll have to do over and over again.
This isn't a one-and-done kind of thing…  it's something you need to get good at, because you will ALWAYS have to go through these motions in order to get paid.
Unfortunately, selling real estate is almost never as simple as just putting a "FOR SALE" sign in the front yard. It's also not as simple as calling up your local realtor and telling them to do all the work – because they will take a painful chunk of your profit on every property they sell (and in my opinion, paying these kinds of fees over and over again just isn't a sustainable way to do business).
The truth is – selling real estate does require some marketing and promotion. To some investors, the prospect of becoming a "real estate salesman" does NOT sound like fun, but if you're smart about it – the sales process doesn't need to be difficult or time-consuming. In fact, when you're working with a solid buyers list, selling properties can be one of the easiest things you'll ever do in your business.
With a solid buyers list, you have a captive audience that wants what you're selling. In a sense – this list like its own, separate "book of business". This kind of captive audience (no matter how big or small it is) is worth money – both to you and anyone else who can benefit from selling their properties to this group of people.
When you have a large, engaged group of hungry investors waiting for your next deal, you don't need to rely on Craigslist or the MLS to sell your properties because in many cases, you'll be able to sell them to your list with as little as one email, and it all happens under the radar.
And you don't have to take my word for it, listen in as Joe Crump explains it in the video below:
Does this kind of power sound good to you? It sure did to me!
After a couple of years of selling properties in my real estate business, I had spent a lot of time struggling with the sales process and waiting impatiently for the right buyers to materialize. If there was ANY way to make the process easier, I had to know about it.
How to Get Started
If you're new to the whole concept of building a buyers list – the first step is to put together a very simple website, where visitors will be able to sign up and get added as one of your "VIP Buyers".
Once this website is set up, it will require almost no ongoing maintenance and luckily, there are a few systems and services out there that were designed to make this process VERY easy for busy entrepreneurs like you and me. In a matter of minutes, you can set up a website that looks incredible and gets results.
If you need help putting together the best looking website in the least amount of time, check out the video tutorials below and I'll show you exactly how to get started.
Step 1 – Create A Landing Page
I used to think building ANY kind of website was a long, drawn-out and expensive ordeal – but with a service like Lead Propeller (aff link), this can be one of the easiest aspects of the entire list building process. You can literally get your website online and looking amazing in a matter of minutes, as I'll show you in the video below.
As I mentioned in the video above, be sure to use promotional code RETIPSTER if you want to give this system a whirl. You'll get an instant 75% off discount on your first month. Also, be sure to utilize some of the free images available on Unsplash (seriously, it will make your website look amazing).
Step 2 – Sign Up for MailChimp

If you're going through the motions of setting up a website (which I highly recommend), it only makes sense to go a few steps further and set up an email list as well. This will put your list building on auto-pilot and free up your time to focus on things that are much more important.
There are a number of email systems out there and in my experience – most of them stink. I have first-hand experience with most of the well-known names out there and I have to be honest…  I've been pretty disappointed with all of them. Most of them aren't cheap and almost all of them are glitchy, slow, confusing and very frustrating to work with. I don't have the patience to deal with these kinds of unnecessary headaches, and that's why I finally landed on MailChimp (aff link) as my service of choice.
Now, I wouldn't say MailChimp perfect, but it is leaps and bounds ahead of the others. Not only is it the easiest one to use, but it's also the only one that allows you to start building your list for FREE. If you want to give MailChimp a shot, I'll show you how to set up your list in the video below.
As mentioned in the videos above, once your MailChimp account is ready to go, you'll just have to locate your API key and drop it right into Lead Propeller.
Moving Forward
Getting your website and email list set up is a big first step that will have a MAJOR impact on the ease of your list building efforts going forward.
The next big step is to start the promotion and list building process, which will drive quality traffic to your website and get new investors to sign up for your buyers list. We'll jump into this in the next blog post (and this is going to be worth your while – I promise)!