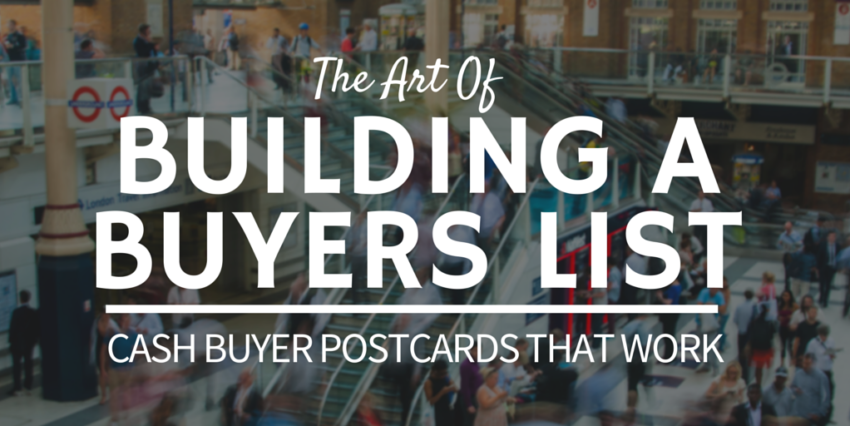 When you think about building a massive and engaged list of buyers for your real estate business – what do you think is the best way to get the job done?
As we talked about in Part 2 of this series, there are ALL KINDS of options to choose from – but in my experience, one of the most effective techniques on earth has been direct mail.
Before we go any further, let's get one thing straight – direct mail is not an idiot-proof strategy. To get great results out of a direct mail campaign, there are a lot of variables you have to get right… but if you take your time and think carefully about how you're executing this process – you'll see what I'm talking about.
Direct mail works and this is an undeniably effective technique that can get some serious results.
Recap
This is Part 3 of a 4-part series where we're addressing how to build a buyers list:
If you're taking the direct mail approach (one of many possible options we addressed in the previous blog post), this is a very important article you'll want to pay close attention to.
Like I said – there are many ingredients that go into a successful direct mail campaign, but one of the most important ones to get right is conveying the right message.
To convey the right message, it all comes down to your communication skills.
Your ability to say the right thing, in the right way is a pretty big deal. This ability doesn't come naturally to everyone, but if you can find a way to craft your message well, you can get some STELLAR results.
On the same coin, dropping the ball in this area can hurt pretty bad and yield some disappointing results… so in an effort to help you avoid this kind of stumbling block – I want to show you how some of my mail pieces work. With any luck, you might just walk away from this article with a few new ideas on how you can handle this part of your process.
What Makes Direct Mail Work?
I'm just gonna come out and say it – most people are morons when it comes to written communication.
I'm reminded of it every day (and you probably are too) when I open up my mailbox and find a dozen marketing solicitations that are unbelievably cheesy, thoughtless, poorly written and basically designed to be ignored.
Do you ever get envelopes in the mail that you just KNOW are junk? I get them all the time and I literally throw them in the trash without so much as opening them.
Case in Point
Suppose you got both of these letters in your mailbox today.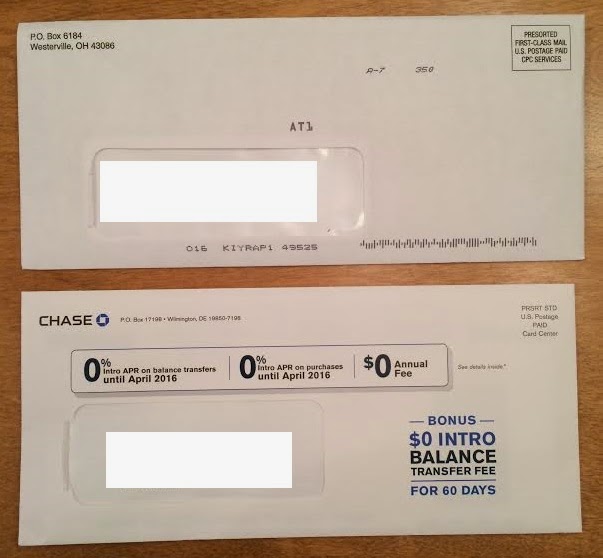 Think about it for just a few seconds and tell me honestly – which one are you more likely to open?
When I posted this question on my G+ page last year, almost every single person said that they would open the top one, and the bottom would go right into the trash.
What is it about the bottom envelope that just SCREAMS "junk mail"? I think there are a few issues:
It leaves very little to the imagination (I already know what it is, and I don't want it).
I get at least one of these each week and they all look the same.
There is nothing personal about it. It's obvious that millions of people are probably receiving this same letter.
We've all just been trained to know what junk mail looks like – so when big companies blow millions of dollars on this kind of "sales cheese", you and I both know instinctively where to stick it.
How to Look Different
So how can you make your mail piece look different from all the other junk flying around out there? I'll admit – it's not always easy to come up with something that stands out from the crowd.
When I first started working with direct mail, I found that it helped to look at my design from the recipient's perspective. I started thinking about my own thoughts and habits as a consumer. What kind of mail did I actually take the time to read? What kind of mail did I throw away without thinking twice about?
I started noticing some patterns about the mail I would read vs. throw away and once I developed some certainty about what was working on ME, I started applying those same principles to the mail I was sending out… and the results seemed to work pretty well in my favor.
My Best Postcard Templates
The reality of direct mail is – you only have a split second to grab someone's attention. You need to INSTANTLY show them why you're worth paying attention to and ultimately, move them to action.
Luckily, there are a lot of ways to pull it off.
I've experimented with a number of different messages and mail formats over the years and after trying dozens of different approaches (some of which succeeded, and some of which FAILED miserably), these postcard templates have consistently produced the best results for me.
(Note: To avoid stifling your own creativity, the examples below contain the same layout, but not the exact wording of my postcards. If you want to see the exact message I use in my letters, you can download my postcard templates at the bottom of this blog post)
Template #1 – The Personal Note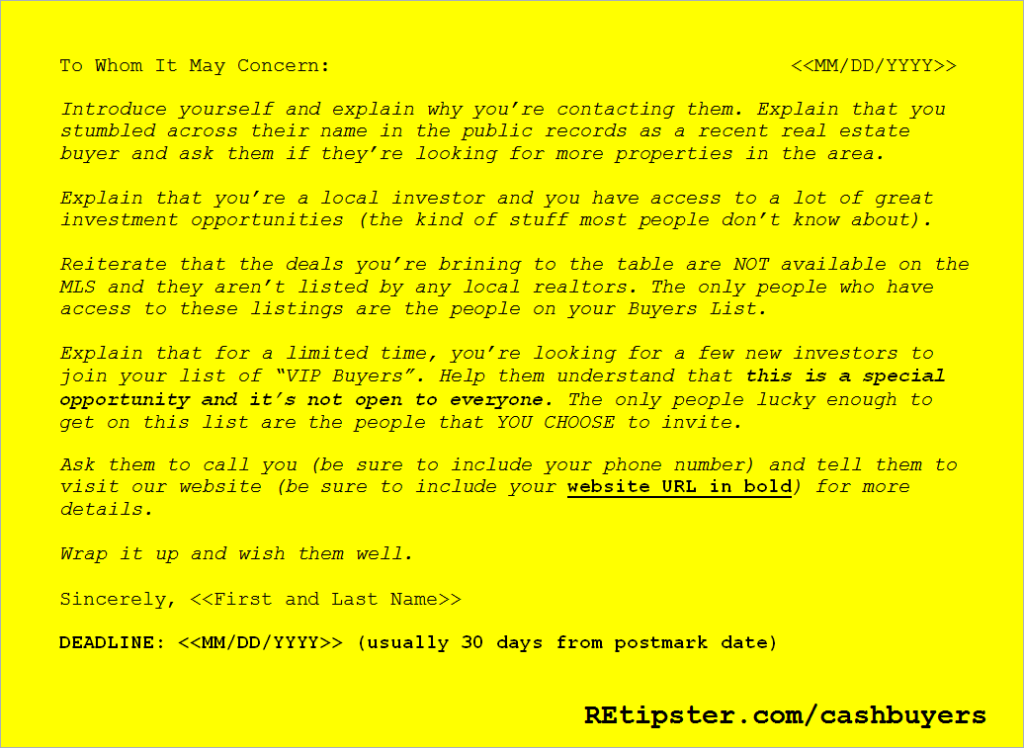 Why Does This Get Noticed?
This postcard doesn't come across with much pizzazz or gusto and that's part of why it works. It takes the approach of "You were important enough for me to write you this personal letter, so please take 30 seconds and hear me out."
Think about it for a second – if you received a postcard like this in your mailbox, would you take 30 seconds to read it? Not everyone does, but most people do.
The goal with this postcard isn't to be flashy. The goal is to be real. When a mail piece comes blasting out of the gate with "SELL! SELL! SELL!", people will instinctively ignore it. Why? Because that's what every piece of junk mail does.
In a world full of cheesy sales letters and annoying messages that nobody cares about, being down-to-earth is different and this kind of straightforward communication can leave a lasting impression on people.
Template #2 – THE BOLD NOTICE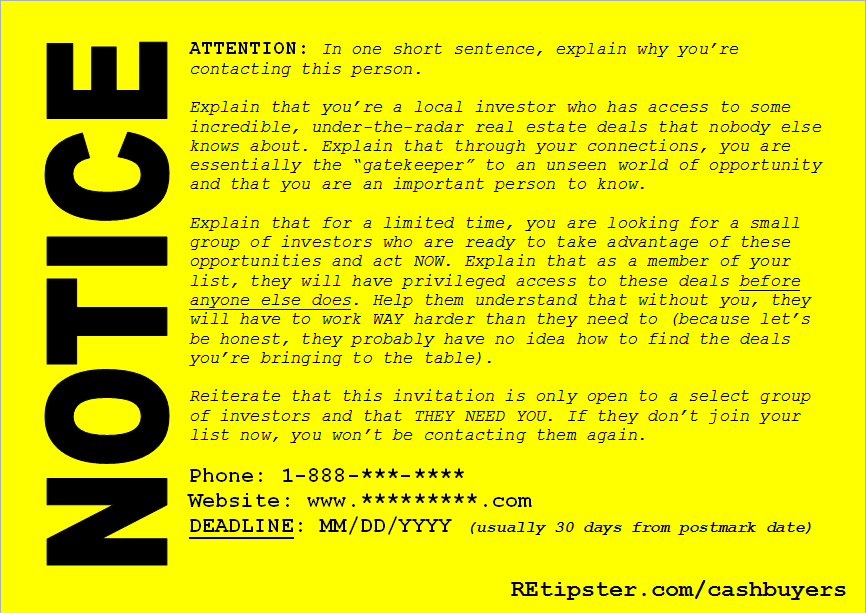 Why Does This Get Noticed?
This postcard has a nice balance between an appropriate level of obnoxiousness (with the big, bold NOTICE – which is hard to ignore), while still coming across as a serious piece of written communication that doesn't scream "Chuck me! I'm junk mail!"
To some, this postcard almost comes across as alarming at first sight – not so much as to scare them, but enough to trigger their curiosity enough to take a closer look.
Similar to Template #1, most people don't get many postcards that look like this. It's different and conveys an immediate sense of importance (more so than the generic "BLAH BLAH BLAH" messages we all get hammered with each day).
Template #3 – The Double-Sided Approach
Back Side: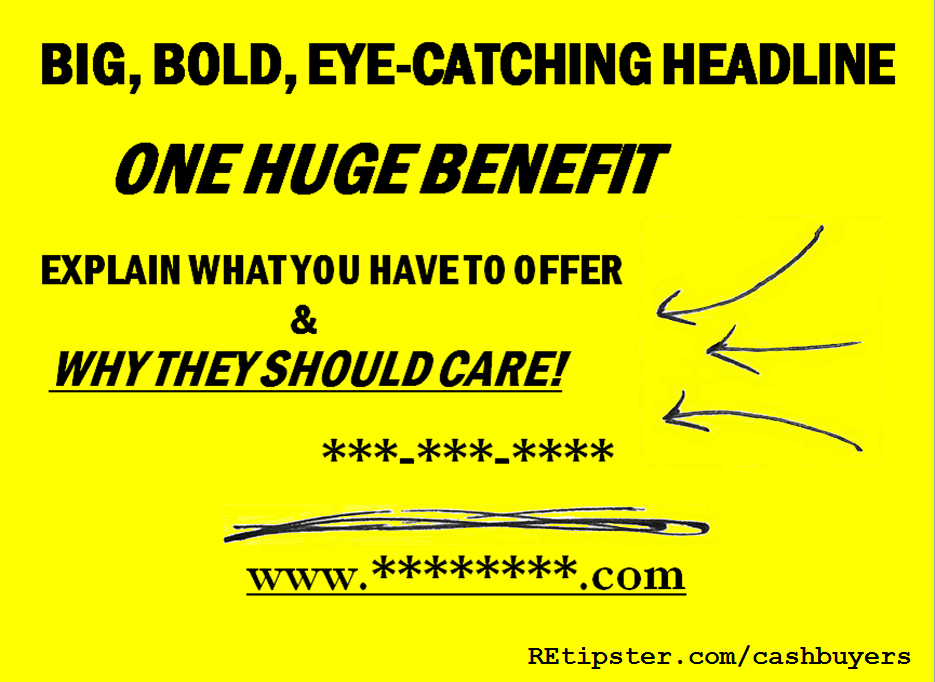 Front Side:
Why Does This Get Noticed?
This is by far the flashiest postcard in my arsenal. It's a mash-up between two different approaches, because one side communicates a simple, personal message, while the other side goes a little crazy with a message that says "Hey, look at me!"
The benefit with using this card is partially in the choice of words, partially in the hand-drawn graphics, and also in the fact that it's double-sided (which means we've got two chances to make a first impression – and it literally can't be thrown away without first being glanced at).
Another aspect of this postcard that stands to most people is the hand-drawn graphics (the star, the lines, the arrow).
Am I right? Did they stand out to you too??
Well, they work. In terms of "attention-grabbing", I wouldn't be surprised if they're even more powerful than the actual text on the postcard!
What Response Rate Should You Expect?
Knowing what to expect from a direct mail campaign can be a tricky thing… because there are several variables that come into play, and it rarely boils down to ONE obvious issue that drives the response rate up or down.
The first time I tackled a direct mail campaign, I had no idea what I was doing. I got my list from a county office, threw together a very basic postcard (similar to Template #1) and did a trial run with 106 postcards via Click2Mail (note: see the video tutorial in this blog post).
To my shock, I had a whopping 6% response rate (which, in the eyes of most direct mail marketers, is pretty darn good).
Figuring it must have been a fluke, I tried another campaign two weeks later with 300 postcards. My response rate was 14%.
After trying this again and again and repeatedly getting a response rate of anywhere from 5% – 18% (and usually in the lower half of that range), I figured I must be onto something.
After toying with a lot of different variables and sending out MANY direct mail campaigns since 2008, I've been able to develop a knack for what kinds of messages produce great results, and what tends to get ignored altogether.
I'll be completely honest, I don't think anybody knows definitively why some direct mail efforts yield huge results, while others fall flat – but there is some very strong evidence underscores the undeniable importance of a solid, well-written message.
The Letter Isn't Everything
As I mentioned earlier, the message on your postcard is only one of many variables that needs to be fine-tuned in your direct mail campaigns. There are other areas that need to be fined-tuned just as well… but on the same coin, you might as well not even bother with all of this if you're not going to pack a solid punch with your message.
Remember the importance of looking different. Be real and you won't have any problems standing out from the crowd.
Want To Use My Postcard Templates?
As you probably noticed, the examples above give a good overview on the format of my postcards, but not the exact wording. I do this because I don't want you to feel like my postcards are the only ones that will work for you.
I've certainly had some success with my postcard templates, but it's not because I'm the most prolific writer in the world… it's just because I tried, and tried, and tried again.
It's entirely possible that you are a better writer than me, and I don't want to imply that my postcards are the best letters ever written.
There is nothing "magical" about the wording I use, I've just invested a lot of mental energy into refining this type of written communication – to the point where I have a pretty solid grasp on how to get responses out of the right people.
You can do the same thing. If you want to spend years of your life and invest thousands of dollars into "testing the waters", I am 100% sure that you can come up with some postcard templates of your own that are just as effective…
…or you can start using the exact same templates I do right now (and just for kicks, I'll throw in a couple of extra bonus templates, eye-catching graphics and a video tutorial to help you along the way).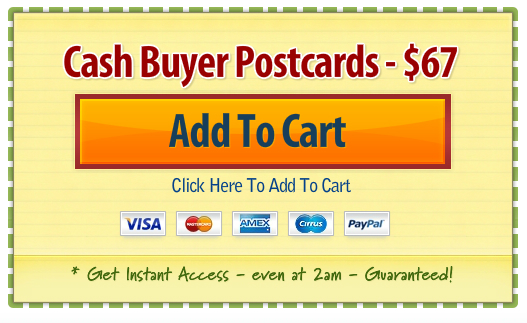 Note: When you become an REtipster Email Subscriber (sign-up box below), I'll send you an instant $20 off "Discount Code" for this item (get it for $47 instead of $67). There's no pressure of course – the discount is there if you want it.