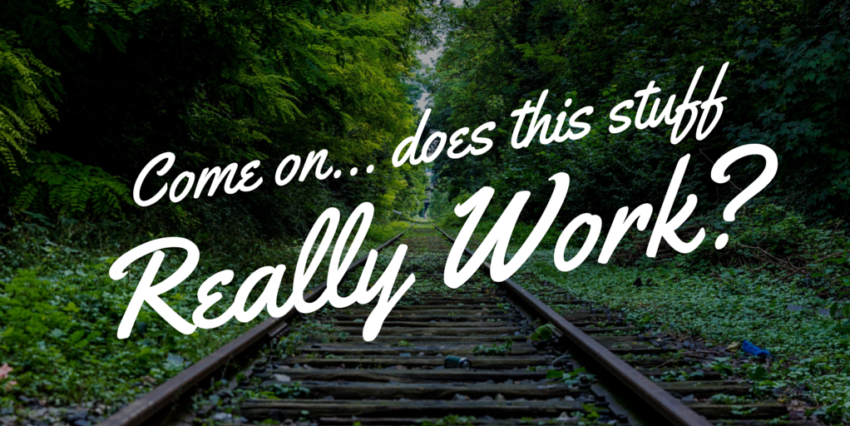 As the readership of this blog has grown, I've heard skeptical comments from time to time about what I claim to do in my real estate business.
I actually understand the skepticism – I really do.
The first time I heard about the concept of buying properties for a fraction of market value and then reselling them (sometimes very quickly), without making any improvements, for several times the initial investment… I can remember being a little skeptical too.
I actually find it annoying when people say that the key to real estate is to simply "buy low, sell high" (usually with a smug look on their face), as if they just single-handedly solved all the world's problems.
It's not that the words aren't true (because they obviously are). It's that they manage to ignore about 99.99% of what it actually takes to succeed as a real estate investor. There is so much more to the story! This business requires a very specific and strategic approach, some major leaps of faith, a great deal of mental energy, an incredible amount of stamina, persistence and even a little bit of luck.
And yet, with everything we're up against – success is still highly attainable. Not everyone experiences their first grand slam victory on their first time at bat, but most people do find it in time if they stick to the plan and improvise where they need to along the way.
Case in point: A few weeks ago, I stumbled across a couple of independent success stories on the BiggerPockets forum, both of which were talking specifically about the business model I've outlined here on this blog. I didn't solicit or compel either of these people to speak up on my behalf, they did it on their own.
Check out this one from Victor: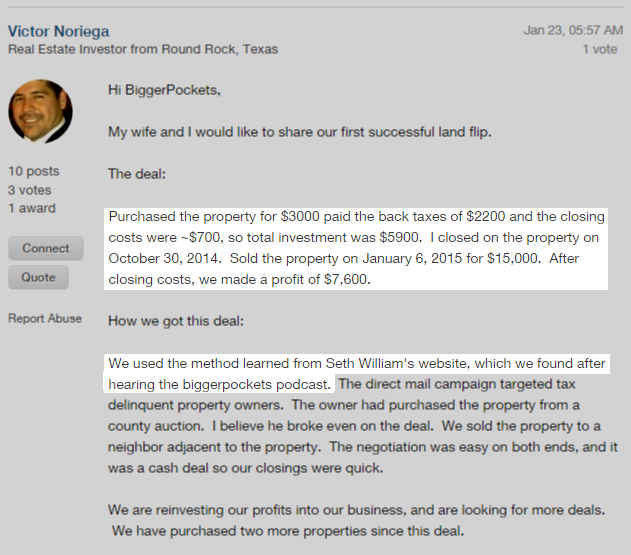 And here's another one from Karl: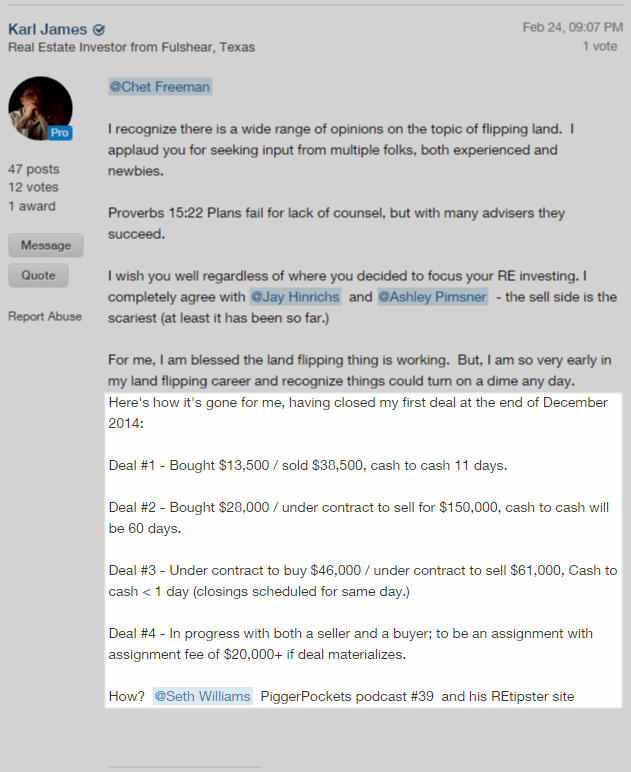 (Note: Here is a link to podcast #39, which both of them are referring to)
Both of these guys were also kind enough to reach out to me personally (and if they hadn't, I probably wouldn't have even known about their success stories). Karl was even so kind as to send me a copy of his closing statements as evidence of "Deal #1" that he describes above. Check this out!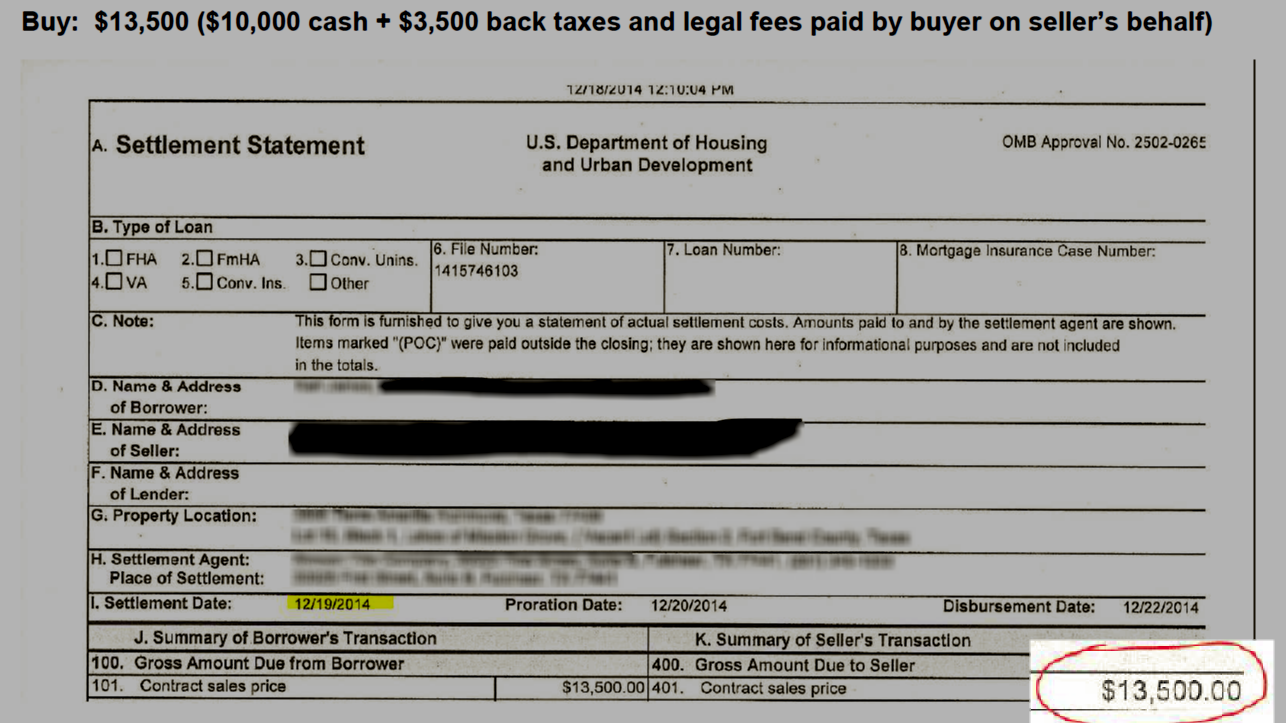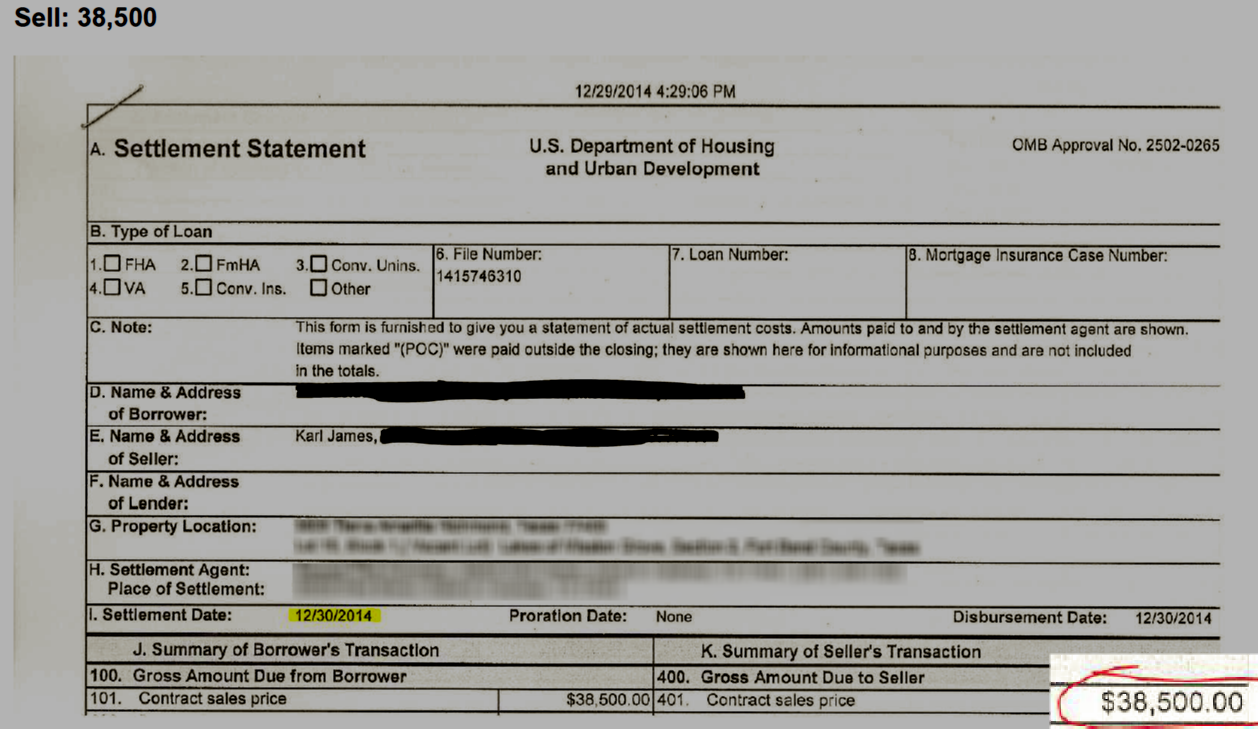 As you can see – I can't make this stuff up. This is for real.
Can You Pull This Off?
Now let's be realistic – can any idiot with a little bit of cash make tons of money as a real estate investor? I suppose they CAN, but it's not likely that they WILL.
As I explained earlier, these kinds of winnings don't fall into your lap without a little bit of hustle. I'm not intimately familiar with the process these guys went through to earn their monetary reward, but if they followed anything on this blog (which they both claimed to have done), I'm willing to bet that each of them had to overcome at least a few obstacles along the way – obstacles that most folks would consider "significant" (e.g. – spending money on a direct mail campaign, creating a website, putting up the cash to buy the property, investing hours learning how this business works, etc). This kind of good fortune doesn't just happen to people by accident – these guys had to get out there and make it happen for themselves.
It's also worth acknowledging that these kinds of results won't necessarily happen in every market, under any condition. In some ways, the stars to have to align in your favor (and it's not guaranteed to happen just because you made the first move).
That being said… there are MANY instances when the stars can and do align on a regular basis. That's right! The precise conditions required to win big are happening right now, all over the place. The only missing ingredient is one ambitious real estate investor who is willing to put up the cash, the time and the effort to chase down these opportunities and capitalize on them.
What do you think? Is this your time to get lucky?