I don't care what kind of real estate investor you are – we all want to maximize the returns from our investment properties. 
This week, I wanted to give the stage to Bradley Beer – one of foremost tax depreciation experts in our industry.
Whether you're an investor in the U.S., the U.K., Canada or Australia – if you've been around the block a few times, you probably know that depreciation is a major factor that can determine how much (or how little) you have to pay the government each year. If you're interested in keeping more of your money, you'll want to tune into this one…
When a real estate investor completes their annual income tax return, they're allowed to claim deductions for a number of expenses involved in the ownership of a property. Examples include property management fees, interest, repairs, maintenance and depreciation (and each expense is a hidden opportunity for you to pay less in taxes).
Of all the deductions available to investors, depreciation is the one that most people miss. Around 80% of all investment property owners don't claim depreciation deductions and therefore miss out on thousands of dollars in tax savings.
What is Depreciation and How Can You Go About Claiming it?
As a building gets older, items wear out and "depreciate". Most government authorities around the world allow property owners to claim depreciation as an expense/deduction that is deducted from their taxable income and depreciation can be claimed by any property owner who obtains income from their property.
Depreciation deductions can be claimed in two ways:
For the structural components of the property (such as bricks, mortar, walls and tiles)
For the plant and equipment assets contained in the property (such as carpets, stoves, blinds, hot water systems, light shades and heaters).
To claim depreciation, investors are encouraged to contact a specialist Quantity Surveyor. This is a professional who performs a site inspection of the property to take measurements and get photographs of all the assets the property contains. Once this information is collected, they will prepare a tax depreciation schedule which lasts for the entire life of the property (up to forty years in some cases). This schedule is then used by the property owner's Accountant to make their claim when they complete their annual income tax return.
Depreciation Example
Depreciation is a real, legitimate expense – and it can make a significant difference to an investor's cash flow. To demonstrate how much of a difference depreciation made for one investor, let's look at one example.
Barney purchased a nine year old, three bedroom house for $610,000 just over one year ago. Prior to making his depreciation claim, Barney's investment property was earning a rental income of $495 per week with a total income of $25,740 per annum, while his yearly expenses totaled $41,028. Towards the end of his first year owning the property Barney's annual after tax outlay amounted to $9,631 or $185 per week.
Barney contacted BMT Tax Depreciation who completed a thorough site inspection and provided a detailed tax depreciation schedule showing the deductions available for his property for the next forty years, including $9,585 in depreciation deductions for the first year.
The following table provides a summary of Barney's scenario for the first full year, both before and after depreciation was claimed.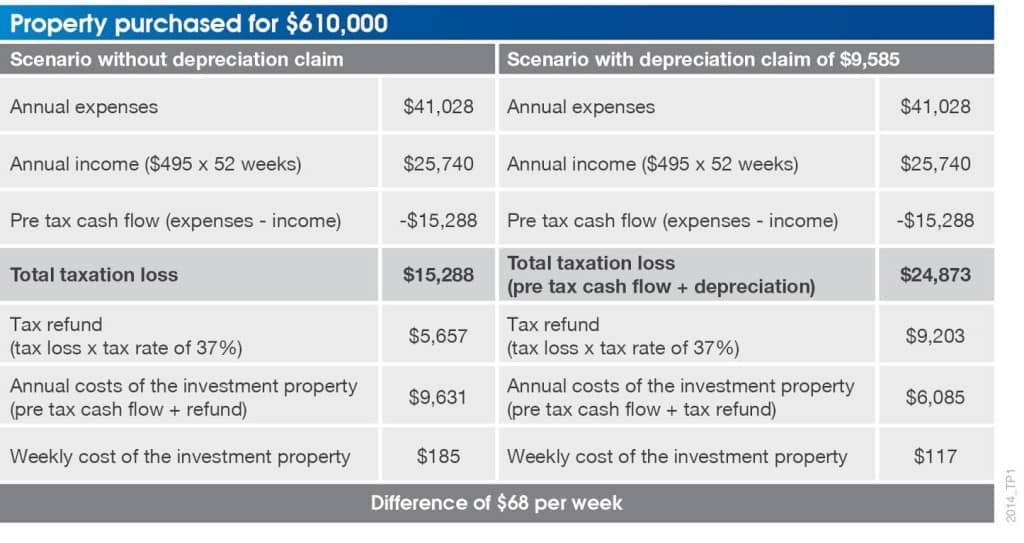 The depreciation deductions in this case study were calculated using the diminishing value method of depreciation.
By claiming depreciation, Barney was able to reduce his annual cash outlay for the property to $6,085 per annum or $117 per week, saving Barney $68 per week or $3,536 per year.
To get an estimate of the depreciation deductions available on an investment property, investors can use BMT Tax Depreciation's handy tax depreciation calculator app here.
For more information on depreciation, check out this video:
Investors can also call and speak with one of the friendly staff at BMT Tax Depreciation by phoning 1300 728 726 (Australia).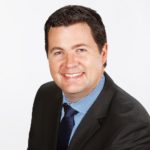 Article provided by BMT Tax Depreciation.
Bradley Beer (B. Con. Mgt, AAIQS, MRICS) is the Managing Director of BMT Tax Depreciation. A depreciation expert with over sixteen years experience in property depreciation and the construction industry, Bradley is a regular keynote speaker and presenter covering depreciation services on television, radio, at conferences and exhibitions Australia-wide. Please contact 1300 728 726 (Australia) or visit www.bmtqs.com.au