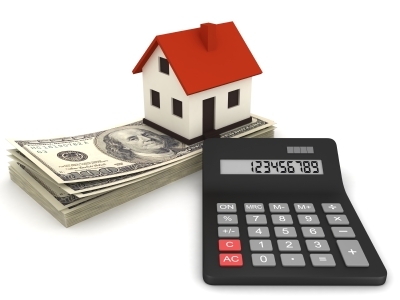 Last week was the first of a 4-part series of blog posts where I intend to take you through a real life example of how I find, evaluate and close on the purchase of a rental properties.
The idea behind this guide is to show you the exact steps of how the process works.
It's not difficult, but as with any real estate transaction, there are a number of things you need to pay close attention to. As you research a property and learn more about what you're getting into – certain things matter greatly, and other things matter very little. My hope is that as we're walking through this process, I can give you a good idea on what to look out for.
Running The Numbers
One of the most important things you MUST do as you're evaluating a new property are your projections.
"Projections" are basically just a series of highly informed guesses about how profitable a property may (or may not) be in the future. In order to figure this out, you'll have to do a little bit of homework and develop a thorough understanding of what the income and expenses are likely to be from this property in the future.
Many, MANY of the deals you'll see on a regular basis won't cash flow (in fact, this is almost exclusively what I saw in my first year as a real estate investor) – and there are a lot of things that can sabotage the profitability of a rental property. Things like:
Paying too high a price for the property
Excessive Property Taxes
Excessive Interest Expense
Insurance Costs
Maintenance, Utilities and Upkeep
Unforeseen Disasters
Home Owner's Association (HOA) Fees
If a deal doesn't cash flow, don't buy it. PERIOD. This is why it's crucial for you to nail down your projections and get an accurate depiction of its profitability – because frankly, your "GO" or "NO GO" decision usually boils down to the answers you get after going through these motions.
Dealing With Imperfections
Are your projections going to be perfect? Not likely. We aren't fortune tellers after all, so it's impossible to know EXACTLY how things will pan out in the coming months and years.
Projections rarely come to fruition exactly as we plan, but when they're done correctly, using realistic data and assumptions, they will almost always set you up with reasonably accurate expectations that won't lead you astray. The numbers may turn out better or worse than you estimated, but they should at least come out somewhat similar to what you had originally predicted.
Challenge Your Assumptions
So you think rent will be $750 per month? Says who?? Is this a reliable and unbiased source of information?
You think the vacancy rate will be 10%? What makes you think so? Do you have any actual experience or market data to back this up?
What kinds of maintenance and repairs will you have to take care of? How certain are you about what the costs will be?
What if one or more of your assumptions turns out to be wrong? Does the property still perform to an acceptable standard?
In order to come up with your "best possible guess" at what the future is going to look like, you need to be armed with the right information. Your inputs will literally determine everything here, so remember the theory of "garbage in, garbage out". If you start with bad information (or if you just guess at the numbers without really getting them from a credible source), you're not going to have a very reliable number in the end.
The last thing we want is to invest our life savings into a property that loses money hand-over-fist.

One of the best rental property evaluation tools I've ever found is called the PropertyREI Rental Property Calculator. It's an easy-to-use excel spreadsheet that allows you to plug-in a few basic inputs, and (assuming your numbers are reasonably accurate) will show you some very clear results that will help you determine if/when you're looking at a worthwhile real estate investment.
In the example below, I'll show you how I used this calculator to go through the motions of plugging in the numbers so I could understand whether I was looking at a solid deal for an investor to pursue.
(Note: If you want to get a copy of this calculator for yourself, be sure to use Promo Code: RETIPSTER1 at checkout for an instant 10% discount).
Step 1: Determine Your Rent Revenue
It all starts with having a solid understanding of the revenue your property is likely to generate every month. We're talking gross income – before any/all expenses.
Now – in my first conversation with this seller, he told me that he was generating $750 per month in revenue from this house.
Can we trust him? There are a couple of ways to find out.
I started by asking him to send me Schedule E of his past two years of tax returns (a Schedule E is basically an income statement, showing the amount of revenue and expenses he reported to the IRS for this particular rental property). After reviewing his information, it turned out that he did make approximately $750/mo for the past two years.
I also ran the numbers on Rentometer – which gave me a quick look at what similar properties were renting for in the immediate vicinity. I found that $750 was a little on the high-end for the area, but not a completely unreasonable expectation.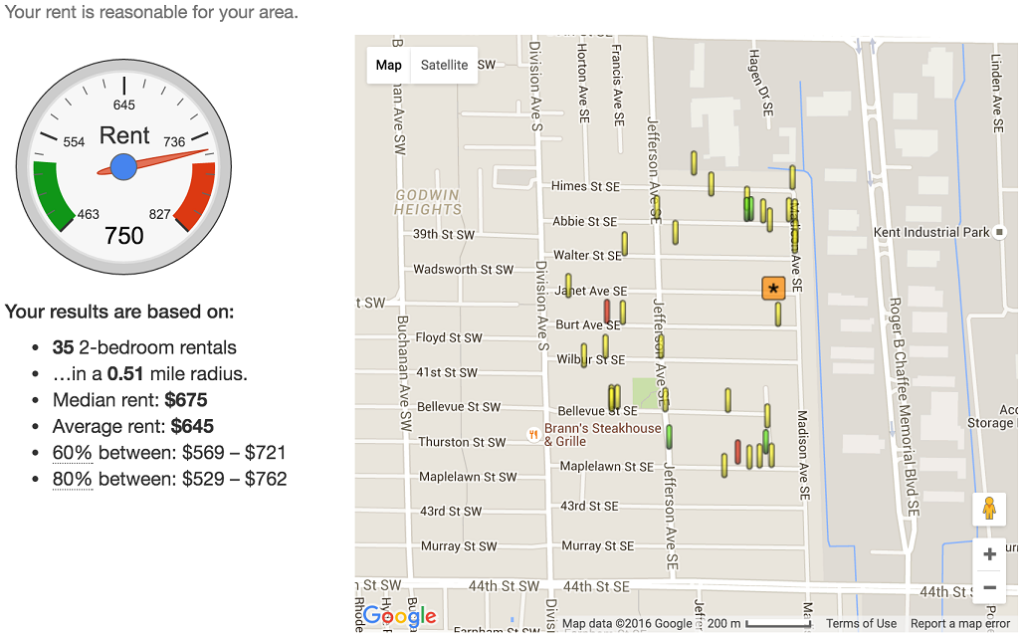 I also gave my property manager a call to see if he thought this was a realistic expectation given the property and neighborhood. He expressed some hesitancy and mentioned that in his opinion, a more realistic number (in THIS neighborhood, for THIS kind of house) would be around $700.
In the end, since I had proof that $750 was attainable based on the seller's tax returns (and since the property was being sold with the same tenant who had been paying that amount for the past 2 years), I decided to use this number in my calculation… but I would likely re-run the numbers again later with this $700 number, just to make sure the deal still produced adequate cash flow.
I also assumed the property would have no other sources of income (i.e. – no vending machines or coin laundry), a vacancy rate of 10% (i.e. – the property will be vacant and/or between tenants for 5 weeks out of the year… a pretty conservative estimate in this market) with the plan for increasing rent revenue each year by 3% on average.
Step 2: Purchase Price and Financing
Depending on whether the property is being purchased with some form of financing, or whether it's being purchased outright as an all cash deal – the financing picture will usually have a big effect on the outcome of your calculation.
In my example, the property was being purchased with cash – which greatly simplified this portion of the calculator.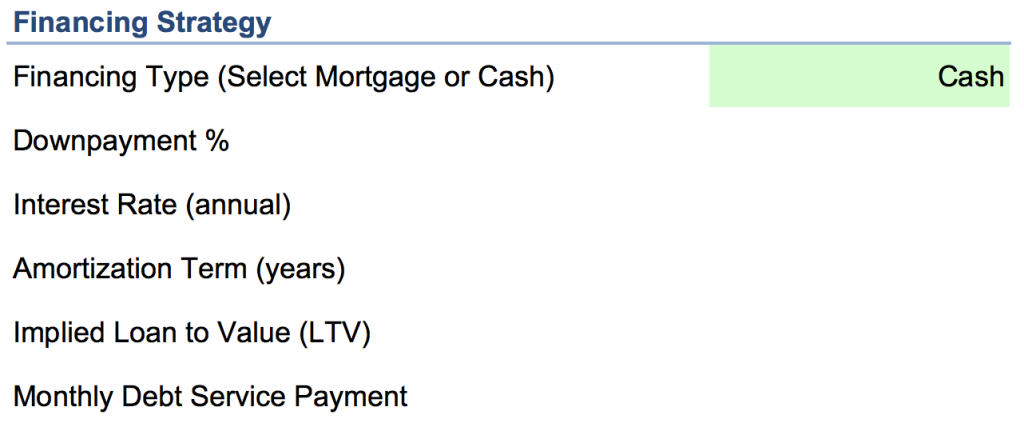 Why was this property being purchased with cash instead of financing? A few reasons…
The property was relatively inexpensive.
The investor had the cash available.
The investor was more concerned about generating more cash flow than about making their cash work harder for them (which we'll get to in a minute).

For this deal, the closing costs came out to approximately $1,500 (which is actually closer to 5.5% – but not a huge variation from the 5% shown above) and the deferred maintenance costs we planned for were $2,500 (the furnace was in rough shape, so we assumed it would need to be replaced shortly after closing).
Step 3: Factoring in All Expenses
Understanding a property's expenses can be a painful dose of reality.
These are the items that most sellers tend to downplay (or just fail to mention altogether)… but these numbers are CRUCIAL to understand.
These numbers are very real and will play a major role in the profitability (or lack thereof) of your rental property. You'll have to do your homework in this section, and it's important that you do this part of the process well because if you use the wrong numbers, you'll only be fooling yourself and hurting your (or your buyer's) future.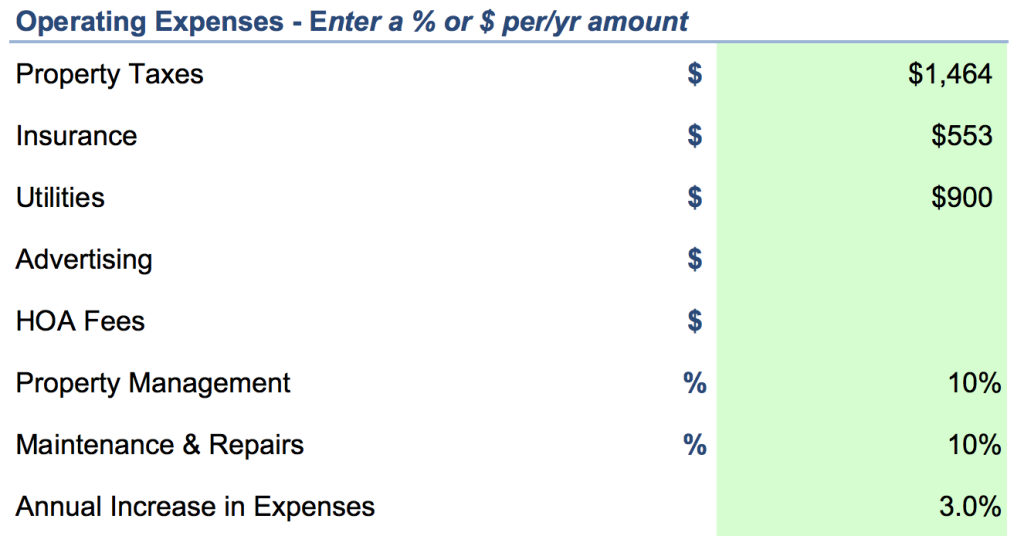 Property Taxes: Property taxes have always been a depressing subject for me. Why? Because regardless of whether you purchase a property with financing or you buy it free and clear, you will always have to pay property taxes. Since this expense is permanently attached to the property, it's important that you find the correct number and factor it into your calculation. I found this number by checking the seller's Schedule E and by checking the City Treasurer's website for the total annual property taxes over the past two years. In the previous year, this property owner paid $1,464 in property taxes, so that was the number I used here.
Insurance: This one is pretty easy. You can call any property insurance agent (I recommend trying at least a couple to compare prices) and they will be more than happy to tell you what the annual cost will be. I called my property insurance agent and gave him the rundown, and he indicated an annual cost of $550 – $600 for this type of property. Given that the seller had paid $553 – I decided to use that number for this part of the calculation.
Utilities: For most residential rental properties in my town, utilities are set up in such a way that the landlord pays the water bill, but everything else is covered by the tenant. The utilities can be set up in a number of different ways, but whatever your arrangement is, you need to get a good idea on what this number will be on an annual basis.
In this situation, the seller also had the utilities arranged so that he paid ONLY the water bill. By looking at his Schedule E, I was able to see that he had paid an average of $900 per year for the past two years. Based on my own experience with my other rental properties in the area (and based on my property manager's opinion), I knew this was a solid, legitimate number to work with.
Advertising: I use a great property management company for all of my rental properties (and I recommend all my buyers do the same). Most property managers will handle the placement and eviction of all tenants as part of their service, so we'll get to this cost in the .
HOA Fees: This property is not part of a home owner's association, so this step is easy. ZERO.
Property Management: Even if you're not going to hire a property manager like I do (most property managers will charge around 10% of your gross rent revenue), you still need to pay yourself for your trouble. The fact is – somebody, in some way, will ALWAYS have to manage this property, so regardless of who is doing the job, this is a very real expense that ought to be accounted for.
Maintenance & Repairs: Another absolute must that you need to include in your expense column is a reserve for maintenance and repairs. I always plan to set aside at least 10% of my gross rent revenue to cover the issues that will come up when my properties start falling apart (because sooner or later, it's going to happen). Even if you have a year or two where no extraordinary expenses come up, you need to let these funds accumulate. All it takes is one roof replacement, or one pipe to burst in the basement and ALL of this money will be needed immediately – so let this money build up and don't drain this account.
Step 4: Investment Capital, Taxes and Depreciation
This next step is pretty simple. If you know what effective tax rate you're working with (this will depend on the investor's situation), you can plug it in and the calculator will factor this in to the final calculations of what your annual cash flow will be after taxes. I used 20% in my example.

The calculator will also do a calculation to show what the TOTAL cost will be to purchase the property (in this case, it's taking the purchase price of $27,500 + closing costs of $1,375 + deferred maintenance of $2,500 = $31,375 cash required to purchase property).

This simply shows us what the full acquisition cost will be, so there is no confusion about this deal is going to cost the investor.
Step 5: Executive Summary
This is usually a very revealing part of the calculation process, because it gives us a good look at what kind of net revenue the property can actually be expected to generate (both before and after taxes).
In the example below, the calculator is telling me that after all expenses, the investor would be adding another $3,563 to their annual income, and then the amount they would actually keep in their pocket (after their taxes are paid) would be $3,030. This is if the investor chooses to buy this property and pay all cash for it.
In a very real way, this information is your final, decision-making data, and depending on whether the property is being bought with cash or with financing – the end results can vary widely.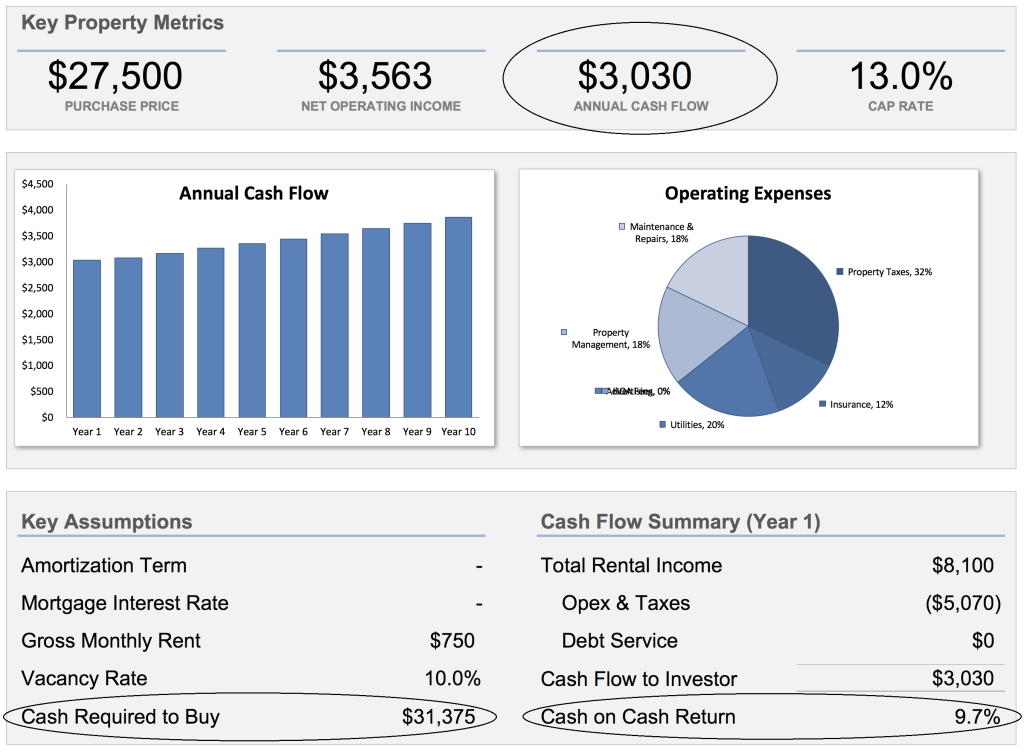 Some of the numbers I always watch very closely are the Annual Cash Flow, the Cash Required to Buy and the Cash on Cash Return.
For example, let's go back to the Dashboard and change our financing strategy to buy this property with a mortgage. If we put down 20% and get a 30 year mortgage at an interest rate of 4.00% – we now have to add monthly loan payments of $105 into the mix.
What does this do to our numbers? Check out the differences…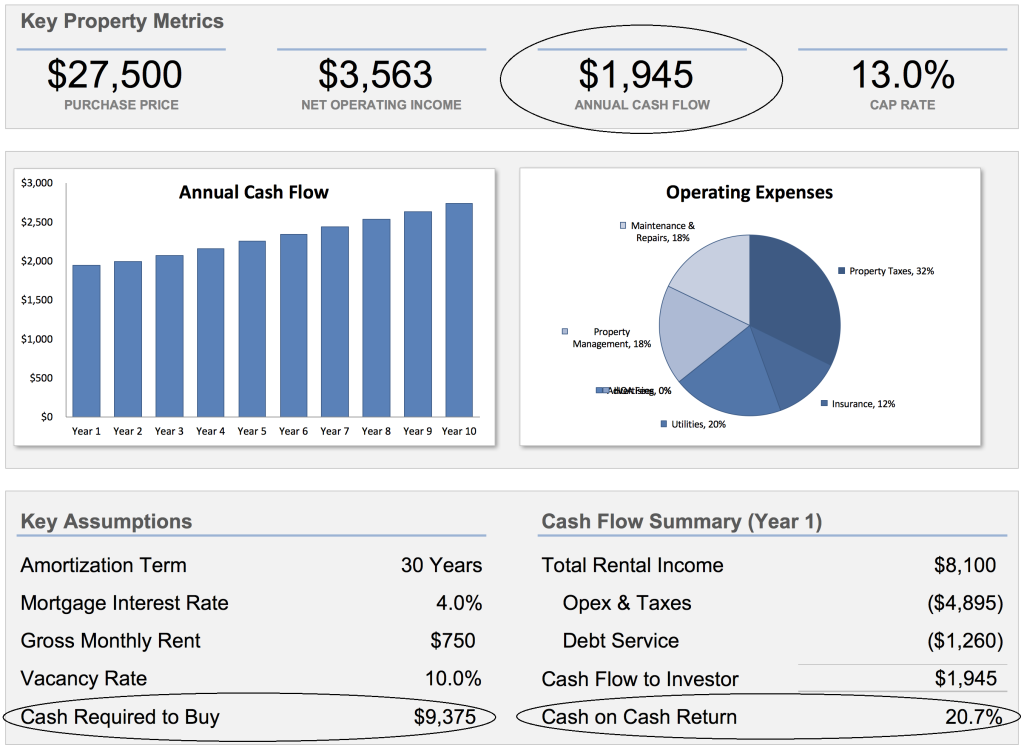 When we use financing for a property like this, it comes with some tradeoffs. Let's look at the pros and cons of using financing to buy this property.
Pros:
If we utilize financing, this property (and the source of income that comes with it) will require significantly LESS cash to buy upfront.
The Cash on Cash Return is over 2x higher when we use the power of "OPM" (Other People's Money). In other words, every dollar we put into this property from our own pocket is going to work MUCH harder than if we had to cover the full purchase price without financing.
Cons:
Since we'll have to make monthly loan payments for the next 30 years, the annual cash flow is going to see a significant negative impact. Although the property will cost us less cash upfront, it's also going to produce less cash flow after the debt service is paid each month.
If you're scared to death of debt or if you have a personal philosophy of avoiding debt at all costs – this approach will obviously conflict with that mindset.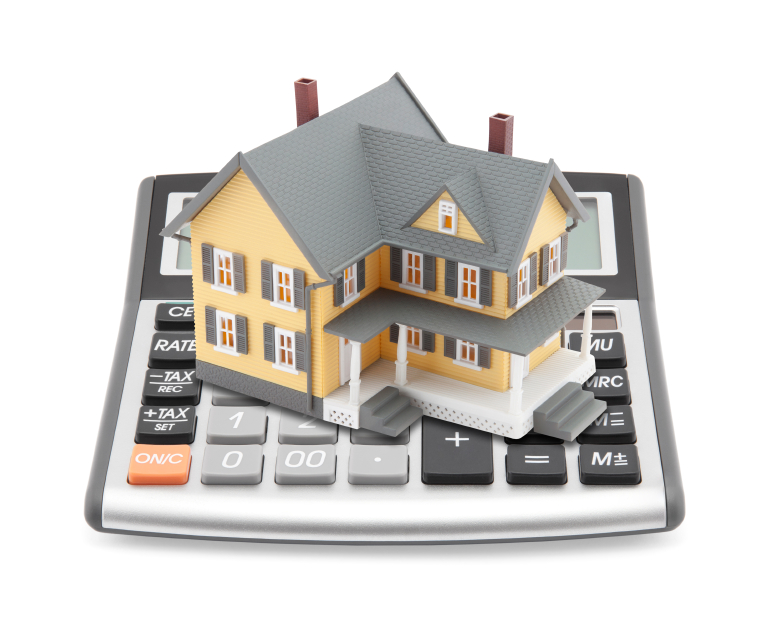 The great thing about financing is that it has the potential to supercharge the growth of your real estate portfolio. When you can purchase properties quickly without tying up your own finite source of cash, you might be shocked at how quickly you can build up a MASSIVE source of wealth and income for years to come.
Is This A Good Deal? Should We Buy It With Cash or Financing?
The bottom line is this…
If we purchase this property and pay all cash for it, we can reasonably expect to be $3,030 richer at the end of each year after taxes… and it will cost us $31,375.
If we purchase this property with financing, assuming 20% down and 4.00% interest over 30 years, we can reasonably expect to be $1,945 richer at the end of each year after taxes… and it will cost us $9,375.
If you want a closer look at how I plugged all of these numbers into the PropertyREI calculator – I'll walk you through the entire process in this video below…
Want to use the PropertyREI Rental Property Calculator?
You can get it at PropertyREI.com. And remember – be sure to use Promo Code: RETIPSTER1 at checkout for an instant 10% discount.