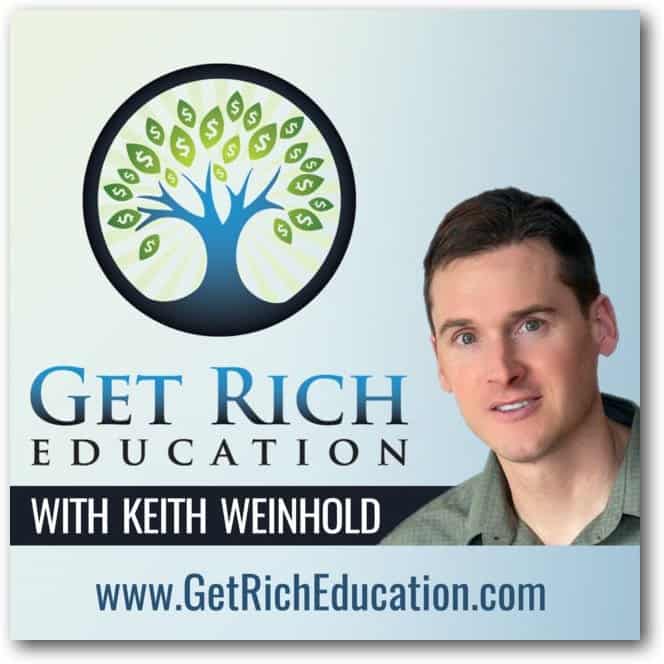 I recently had a chance to chat with my friend Keith Weinhold on the Get Rich Education Podcast.
It was a great conversation! We spent some time talking about some of the tools and resources we've both been using in our businesses in 2017 and how/why they've been so helpful. Be sure to check it out here!
Here's a quick overview of what we covered…
19:30 BombBomb – Send video e-mails. Also, be sure to check out my review of BombBomb in this blog post.
22:00 Rocket Lawyer – Access to legal documents, contracts, real estate agreements. Convenient Q & A format completes documents for you.
23:28 Cozy.co – Free self-property management platform.
25:38 Lead Propeller – User-friendly website builder for real estate investors. See how I'm using Lead Propeller for my selling website in this blog post.
27:14 Unsplash – Free high-quality, rich images. Royalty-free and legal for your use.
29:00 Investor Carrot – User-friendly website builder for real estate investors. Check out my review of Investor Carrot in this blog post.
29:14 The importance of having a real estate investor website.
31:12 BluePay – Accept real estate payments through credit cards. See my in-depth review of BluePay in this blog post.
33:30 Trello – Cloud-based project management. Communicate with your team.
35:18 TextExpander – Productivity app that lets you conveniently insert boilerplate phrases. This way, you don't need to type the same thing over-and-over.
37:34 Wunderlist – Create shared cloud-based checklists.
It was a fun talk and Keith is a great guy to follow in the real estate podcasting space. He's interviewed some HUGE names in the world of real estate investing, and he covers some great topics on his show. If you haven't familiarized yourself with Get Rich Education yet, be sure to swing by the site and see what's going on over there!