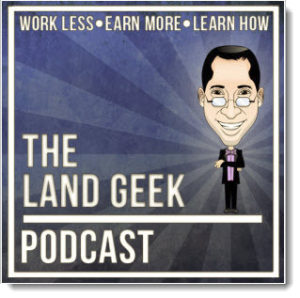 This past week I had the privilege of sitting down with Mark Podolsky for a little chat about the land business. Listen to it here.
For those of you who don't already know about Mark (aka – the Land Geek), he is becoming a well-known name in the game of land investing for a several reasons…
He has been working in the business of raw land for longer than most.
He has a podcast on iTunes that is gaining a strong following (because it's really quite good).
He has an awesome educational program (aff link) that goes into great detail about how get started and thrive in the land business.
Note: If you're interested in checking out Mark's course through the link above, be sure to use coupon code retipster at checkout and you'll get an immediate $250 discount.
It was a fun conversation for me, because it's not every day that I get to chat with another land investor who really knows what they're talking about (because the truth is, there aren't that many of us out there). If you're looking for a good source of information about land investing, it's clear that this guy is a great teacher that any aspiring land investor should pay attention to.
Throughout the 1+ hour interview, we talked about things like:
why land investing is so awesome
how I got started in the business
how to work a full-time job AND run a land investing business
the biggest struggles & successes I've experienced in my journey
various strategies for finding motivated sellers
a lot of other interesting insights from both Mark and myself
If you haven't subscribed to Mark's podcast yet, do yourself a favor and check it out now!